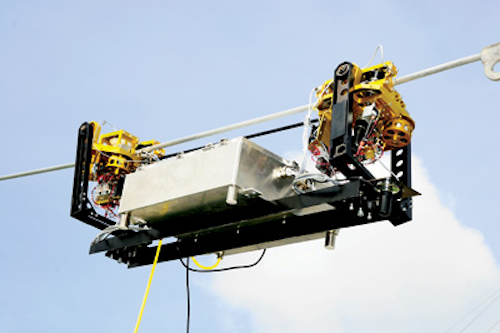 By Kathleen Davis, Senior Editor
The powerful and speedy transmission of electricity around the world is simple. While other parts of the power equation overflow with complications and details (inside the power plant, inside the substation, inside your home), transmission remains in a unique zen category: It's 99 percent big towers and long, long wires. That's it.
In the U.S., we tend to keep the rather technical name of transmission towers. Canada prefers hydro towers, since they often bring power from hydro plants. In the UK and throughout most of Europe, they call them pylons. But, the best name for a tower comes from Australia. They refer to them as ironmen.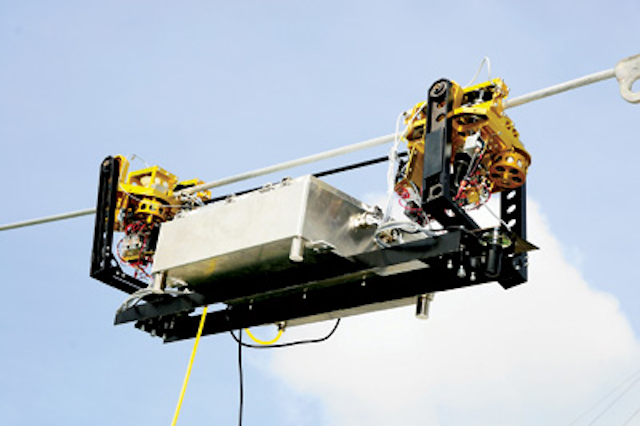 No one, however, really has fun names for the wires. Wires have always been rather boring—well, until the Electric Power Research Institute (EPRI) came along.
EPRI has developed a transmission line inspection robot nicknamed "Ti." Ti can be permanently installed and cover about 80 miles of line a couple of times each year as it "crawls" along the line, identifying numerous issues from grass and trees too close to the right-of-way to just how components along the line are weathering the wilds.
Ti moves along on a shield wire and dodges obstacles such as marker balls by using bypasses installed along the line. Ti can automatically unhook itself from the shield wire, transfer to the bypass, navigate around the marker and then return itself to the shield wire.
The prototype of Ti is being tested and refined at the Lenox, Mass. EPRI lab. Right now, he's equipped with high definition and infrared cameras and can even be rigged with light detection and ranging (LiDAR) sensors. Ti's job is to pass along information to the utility about what's going on along the line, along with specific location information that comes from his handy global positioning system.

Ti will also reach out—electronically, at least—to remote sensors along the wire to collect discharge activity data for follow-up by field personnel. Radio frequency sensors built in conjunction with Ti can talk to him about how insulators, conductors and connectors are doing. EPRI pictures these sensors being environment-specific (lightning sensors in high lightning areas, vibration sensors in high wind areas, etc.).
Ti, along with the sensors in the system, can provide a comprehensive picture of line and equipment information that EPRI expects will optimize line maintenance and improve reliability. The research powerhouse has even suggested that purchasing Ti and his eventual robot family in place of large maintenance manpower could move expenses in these areas into capital costs rather than remaining with the operations and maintenance budget plan.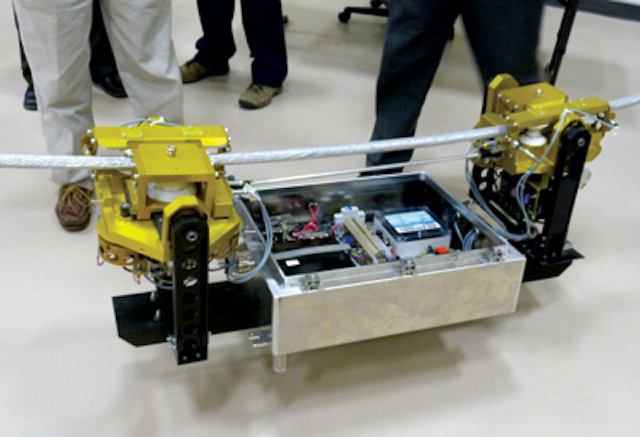 Ti is currently designed to inspect about twelve 765-kV spans and related structures a day and can reach speeds around five miles an hour. It moves by harvesting power off the line itself and storing it in onboard batteries. In the future, EPRI is hoping to make Ti more mobile, allowing it to navigate obstacles without installed bypasses and allowing Ti to be hooked onto most existing transmission line. (According to EPRI, placing the bypasses for Ti's system onto new lines is fairly low cost, overall.)
The future for Ti is a sunny one, in fact. EPRI plans on adding solar panels, making him smaller and reshaping the overall design as he moves through future stages of development toward potential commercial availability in three years or so.
American Electric Power will partner with EPRI on a first field implementation of Ti. The utility's engineers are planning to include Ti and his systems in a 765-kV line to be built in 2014.
With Ti in the mix with his robot sensors, there are many options to keep our ironmen and their trusty wire sidekicks up and running for a long time to come.
Details on Ti, EPRI's transmission line robot, can be found at www.epri.com.
More Utility Products Current Issue Articles
More Utility Products Archives Issue Articles