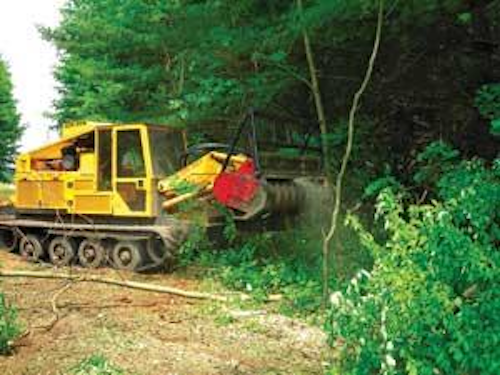 By Eliza Koch
John L. Wright started Wright Tree Service, Des Moines, Iowa, in 1933 with nothing more than $20 worth of tools, a second-hand car and unrelenting determination. The first year's annual sales totaled a mere $600. This didn't discourage Wright. By 1938 the company had turned around; he was able to quit his part-time job and dedicate himself completely to the business. Now, in its 75th year, Wright Tree Service has grown into a multi-million dollar company, employing 2,000 employees in 26 states.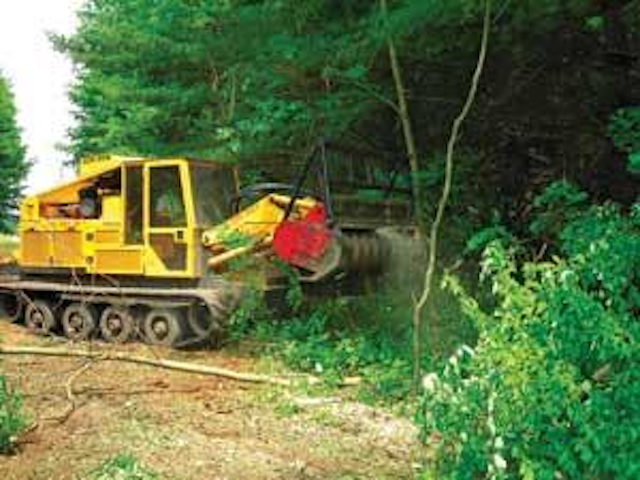 Wright Tree's service area covers 26 states ranging from the Pacific Ocean to the Great Lakes, from Canada to the tip of Texas.
Click here to enlarge image
Throughout its history, Wright Tree Service has focused on safety, innovation and technology. "The top priority for our company has always been safety. It is really the driving force behind our dedication to innovation and technology," said Equipment Supervisor Kevin Fitzpatrick of Wright Tree Service. These priorities are incorporated into every job, every piece of equipment and every training procedure. "This results in the latest and most effective equipment and operating procedures for the ultimate benefit of the customer," said Fitzpatrick.
Right Technique, Right Place, Right Time
Wright Tree's service area ranges from the Pacific Ocean to the Great Lakes, from Canada to the tip of Texas. The company offers services ranging from herbicide application to line clearing to right-of-way mowing. "There is no project too big or too small that we can't handle. Everything from one guy with a spray pack to 100 guys and all kinds of equipment," said Fitzpatrick. Handling a wide variety of jobs in a sizeable service area can prove to be challenging.
In any Wright Tree project, safety is paramount. Before any other areas of the project can be addressed, safety must be considered. Each employee goes through extensive training that covers pertinent procedures allowing them to handle each job safely.
Innovative procedures and the proper technology play a large role in completing these jobs safely and efficiently. According to Fitzpatrick, it is integral that each employee works in cooperation with the utility customers to handle each job with the right technique, in the right place, at the right time. "Pre-job planning and open communication with the utilities allow us to make sure we can deliver what they need in the time frame given," he said.
Because knowledge of the proper equipment needed to handle each project is so important, the equipment manufacturers are also involved in carrying out each plan. According to Fitzpatrick, "It's like a three-legged stool. Wright Tree has a relationship with the utility companies to determine their needs. We also work hand-in-hand with the equipment manufacturers so they can support our needs as dictated through the utility."
The Latest and the Greatest
As part of Wright Tree's commitment to innovation and technology, the company owns and operates the latest industry equipment. "If [a piece of equipment] is available to the tree industry, we either have it or we've tried it," said Fitzpatrick. The company uses lift trucks, chip trucks, chippers, grinders, tracked and wheeled brush mowers. Its fleet includes an extensive number of Geo-Boy Brush Cutters (Geo-Boy, St. Peter, Minn.), and Jarraff All-Terrain Tree Trimmers (Jarraff Industries, St. Peter, Minn.).
Working with the proper equipment significantly improves the efficiency of Wright Tree's crews. The company has found mechanical tree trimmers to be more efficient than bucket trucks when trimming in rural areas. This is due to the fact that, unlike with the bucket truck, there is no set-up time; crews can continue down right-of-ways trimming as they go. "A small fleet of lift trucks would not be able to keep up with one Jarraff and an experienced operator," said Fitzpatrick.
Growing knowledge of mechanical trimmers has led to the machines being utilized in ways the industry never imagined. Wright Tree is able to use these trimmers, which were designed to trim transmission lines at great distances, to trim distribution lines. "It's a true testament to the flexibility of these trimmers when you can take a machine that was designed to operate at very far distances, away from transmission lines, and use them in very close work around the distribution lines," said Fitzpatrick, "These are truly innovative and productive machines."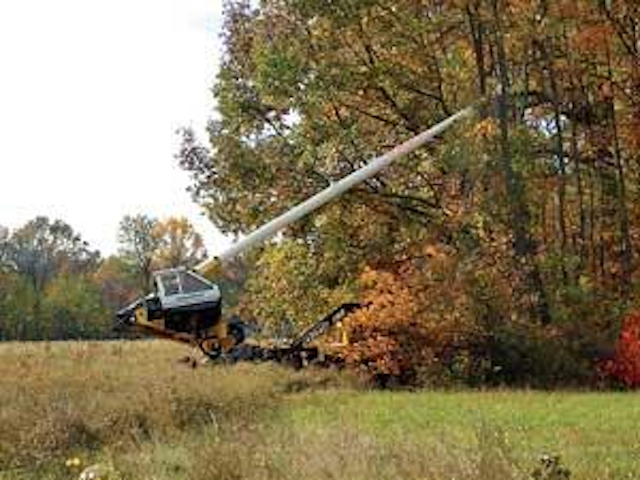 According to Equipment Supervisor Kevin Fitzpatrick, innovative procedures and the proper technology play a large role in completing Wright Tree's jobs safely and efficiently.
Click here to enlarge image
Each piece of Wright Tree's equipment serves a specific purpose. As mentioned before, the company makes it a priority to use the right equipment on each of the jobs it handles. Part of knowing what equipment to use includes how to use each machine in conjunction with another to achieve the best results. "Teaming the efficiency of a mechanical tree trimmer with a wheeled mower like the Geo-Boy makes it very easy to trim a greater number of miles per week," said Fitzpatrick.
This equipment not only improves the company's efficiency but the safety of the crews as well. The mechanical trimmers and brush cutters allow them to complete a large amount of work while limiting the physical exposure of the operator. The mechanical trimmer operators are positioned in a cab 75 feet away from the power line. "With this minimal exposure your incidence of injury on the job site goes pretty much down to nothing," said Fitzpatrick.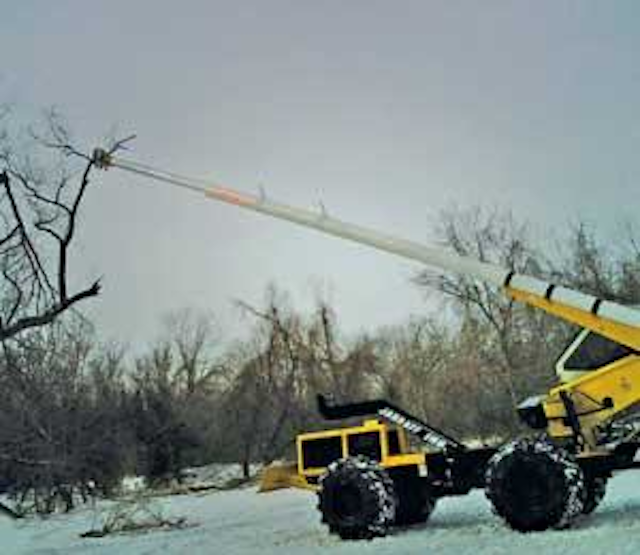 The operator of the Jarraff All-Terrain Tree Trimmer remains safely on the ground while the trimmer's fiber glass boom reaches cutting heights up to 75 feet.
Click here to enlarge image
null
The Maintenance Challenge
Keeping the equipment up and running is also an integral part of maximizing efficiency in each project. One would think maintaining a fleet as large as Wright Tree's would be difficult. According to Fitzpatrick, this is not the case, "Maintenance on the machines themselves is fairly limited. We change the oil in the engines, periodically change oil in the hydraulic systems, and regularly grease the machines."
Wright Tree makes sure that the crews are properly trained to maintain the equipment. Oftentimes this is done with the help of the manufacturer themselves. Wright Tree's maintenance programs for its mechanical equipment are taken directly from the equipment manuals. However, they can also rely on the manufacturer for assistance. In many cases, questions regarding the regular maintenance of the mechanical tree trimmers can quickly be answered by customer service. "If we have a question about when the hydraulic oil should be changed, all we have to do is call them up and they will give us the information we need," said Fitzpatrick.
Ahead of the Training Curve
While training plays a role in maintaining each machine it becomes even more important when fulfilling Wright Tree's goal of making safety the top priority. Some manufacturers are willing to help train the company's crews to safely use the equipment with safety manuals, in-service training at the manufacturer's facility and on-the-job training with manufacturer personnel. "When we start work with a new machine the manufacturers are out there showing us how to maintain and operate it. Jarraff and Geo-Boy actually allow us to come to their facilities, use their equipment, and train our safety managers on how to use the equipment safely," said Fitzpatrick.
The company has found that ongoing communication along with training is the best way to prevent injuries. This includes making crews aware of consistent overarching operating procedures. This is done, in part, with an extensive manual outlining each of the company's operating procedures. According to Fitzpatrick, "It tells crews what the company is about and what they are expected to do to complete a job safely." This manual not only meets the company's safety standards, but demonstrates their dedication to innovation as well. "We are ahead of the industry curve with this manual, in how complete it is," he said.
When Wright Tree's crews get out to the job site, safety remains the number one priority. In addition to the extensive equipment and operating procedure training, each crew holds weekly tailgate safety meetings as well as pre- and post-job meetings. "We have safety personnel whose only task is to be on the job site with crews to facilitate education and training," Fitzpatrick said.
---
About the Author:
Eliza Koch is a technical writer based out of Mankato, Minn.