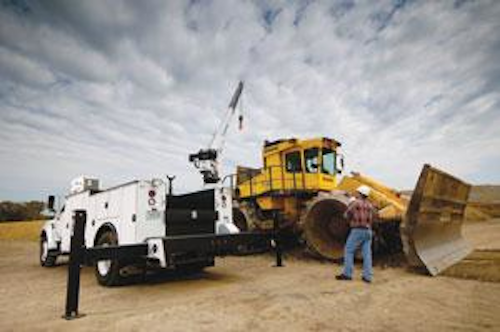 Today's economy dictates that businesses and independent operators and subcontractors stretch their dollars further, and fuel prices make smart decisions about equipment purchases even more critical. While some may be tempted to (literally) downsize their service trucks and the cranes that come with them, some service truck manufacturers are advising their customers to carefully consider their needs now—and in the future—before making these expensive equipment purchases.
Auto Crane Marketing Director Kyle Whiteis says, though a significant portion of their customer base does use a smaller truck, "In 2007, we saw a migration to a larger class of truck body, with sales in Classes 6 and 7 going up six percent," observes Whiteis. "Sales of those sizes now account for over half of all bodies we sell. However, we still have a strong customer base that prefers a smaller truck—independent contractors, and fleets operating smaller equipment, with a strong presence in the agriculture and oil and gas industries."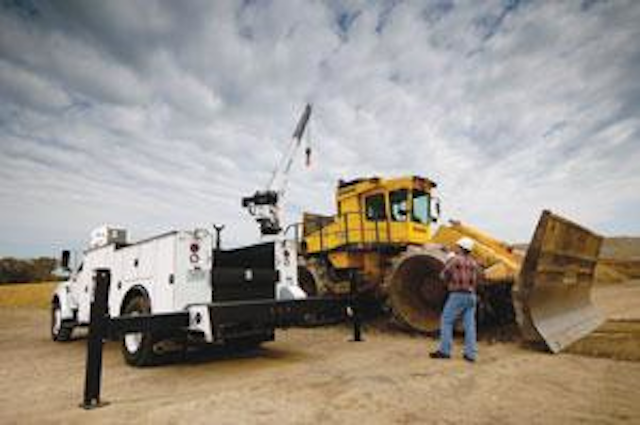 Click here to enlarge image
Whiteis sees the market for smaller trucks sustaining its current level, but also sees a percentage opting to move up to a larger class of chassis. "With the escalating costs of fuel, materials and labor, businesses all across the country are stretching already-tight budgets tighter," says Whiteis. "They're taking a thoughtful approach to their anticipated future needs, and many are going with a larger size body than they might have just a few years ago. We find most of our customers who choose to go up a class are happy with their decision."
Whiteis challenges those who are weighing the purchase of a new service truck. "Finding the right combination of features in a smaller truck body is key," commented Whiteis. "You have to consider the overall weight, stability and strength of the body. Many bodies designed for these chassis are made with lightweight materials that lack the strength and stability required of a mechanic's truck with crane attached. A significant weight savings may not be as attractive if you find yourself replacing the body more quickly than you had expected—or budgeted for—or find the lifting capability compromised as a result of buying the lighter-weight truck."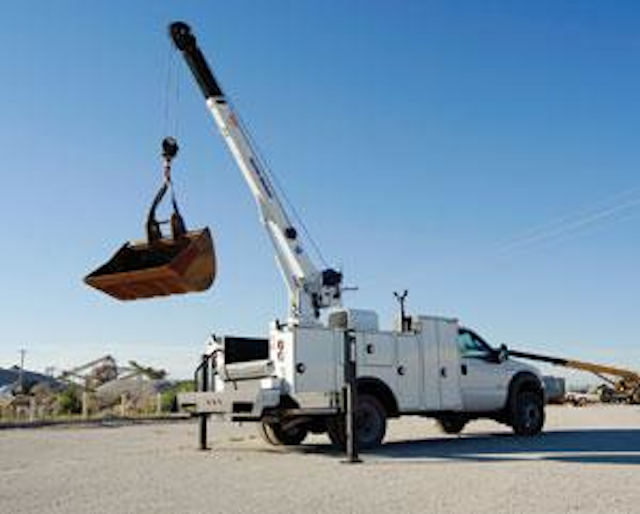 Click here to enlarge image
A very important part of the buying process with Auto Crane is the evaluation of current and future needs, as well as what the customer is lifting regularly, and what they usually carry with them on the truck, which cuts into the available payload. "You have to give a great deal of thought to what you will be lifting and how much those loads will generally weigh," says Whiteis. "We find the most common pitfall is getting into a truck that is either too small to begin with, or one that is quickly outgrown. As all of us are being asked to do more work with fewer resources and smaller budgets to replace aging and worn-out equipment, the last thing we want is for our customers to order a truck they can't use effectively."
Whiteis doesn't discount fuel savings, but warns against only looking at fuel and equipment costs when weighing options on truck size. "With diesel fuel prices at record highs, it's logical for customers to take a long, hard look at the price of the larger truck itself, and how much money it will take to fill the tank every time," adds Whiteis. "But it's critical that you take an equally long look at your anticipated future needs. Buying too small a truck is an expensive mistake."
About the Author: Aimee Mehl is public relations director for the brand development firm Littlefield.