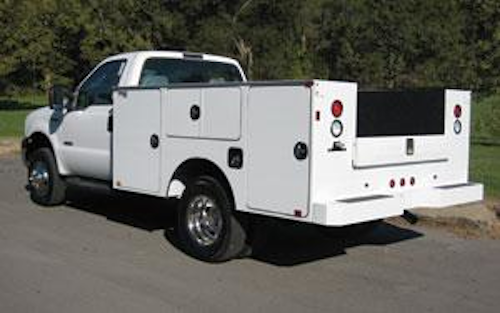 We know the benefits of having a crane service truck available for the work site: the truck saves time and money, decreases downtime by allowing for maintenance and repair of high-performance, expensive equipment on-site, and makes the work site safer because it provides a stable lift and platform from which to work.
The investment in a crane service truck should be carefully considered, and manufacturers of cranes and crane service bodies — like Auto Crane — are continually working to design and develop new features that increase your safety and productivity.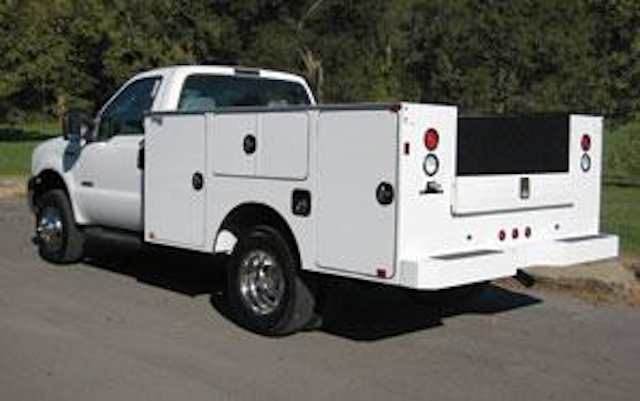 Click here to enlarge image
Some things to look for when evaluating crane service trucks:
How Large are the Steps on the Truck Bumpers?
Auto Crane is making the steps bigger, which not only makes it easier for the crane truck operator to gain a foothold, but also provides for a more stable standing area, should the operator need to maintain a position on the bumper for a more significant period of time during maintenance or repair.
Are the Sections of the Truck That Could See Foot Traffic Secure to Step On?
Not only are the steps on Auto Crane's trucks larger, they apply a non-skid coating to them and other parts of the truck; non-skid bumpers, steps and truck bed provide for a much safer work environment, especially during inclement weather, or if the load is cumbersome or unsteady itself.
How Bright are Your Lights?
LED lights on service trucks like the Auto Crane Titan 16 Service Body are much brighter than standard bulbs on stop/tail/turn/marker lights — the Titan 16 features 19-diode LEDs. These types of lights can improve visibility at a repair or maintenance worksite, and allows for longer work days during times of year when daylight is at a premium.
Does the Crane Truck Have Hydraulic Overload Protection?
Standard in most service cranes is a sensor in the lift cylinder that monitors pressure during operation. If pressure exceeds proscribed limits, the sensor shuts off function to the crane. The sensor allows the crane to pick up only as much weight as it is rated for in all its positions, whether hoisting, extending or booming.
Which is Set First: Speed or Function?
Operators of most cranes in the service truck industry set the crane's speed prior to selecting an actual crane function. One feature unique to Auto Crane's service cranes is a function interlock, which requires the operator to select the crane function, such as rotate or boom up, prior to engaging the speed control. This feature prevents sudden starts that could pose a hazard when moving loads into confined areas.
How is the Remote Operated?
While wireless FM remotes are not standard on most service cranes, they are an important 21st century technological development. Wireless FM remotes make it easier for the crane operator to position himself where he needs to be for the load, instead of being limited to a range of 20 or 30 feet. FM remotes also remove the direct connection between the operator and the crane. This becomes important should the crane ever come in contact with electrical wires or other power sources.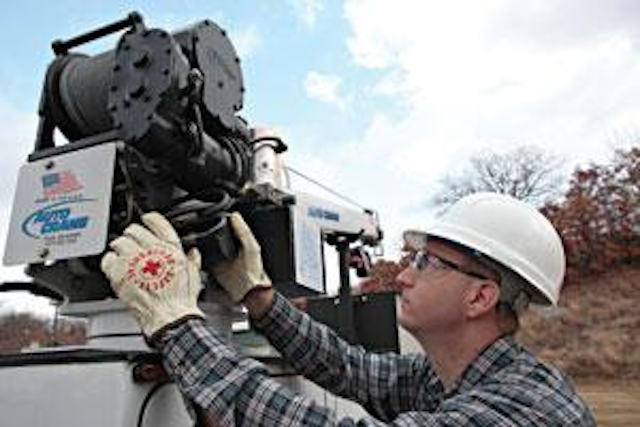 Click here to enlarge image
Operators in areas that don't have wireless capability aren't out of luck, though. Auto Crane's newest service cranes also come standard with a tether for the remote. If the operator finds himself in an area that does not allow FM transmission, like a blast site, or the batteries in the controller die, he can still operate the crane by attaching the remote to the crane with the tether.
Time is money. Unique to Auto Crane's hydraulic cranes, their wireless FM remote's hydraulic two-speed mechanism allows for an unloaded crane to rotate at twice its regular speed, to get to the load more quickly. Once the crane is loaded, the speed is automatically cut in half, to minimize load swing upon stopping, thereby increasing safety.
Today's crane service trucks have evolved along with 21st century technological advances to become an important component of increased work site safety. Auto Crane's customers tell them they want to make smart investments in their company's future — safety comes first when considering their people, projects and purchases.
About the Author: Kyle Whiteis is with Ramsey Industries, which includes Ramsey Winch, Auto Crane and Eskridge.