Managing the Fiber Optic Network Installation Project
Managing a fiber optic installation can be the easiest part of the project if the design and planning has been done thoroughly and a competent contractor chosen, or, if not, the hardest.
Oct 1st, 2008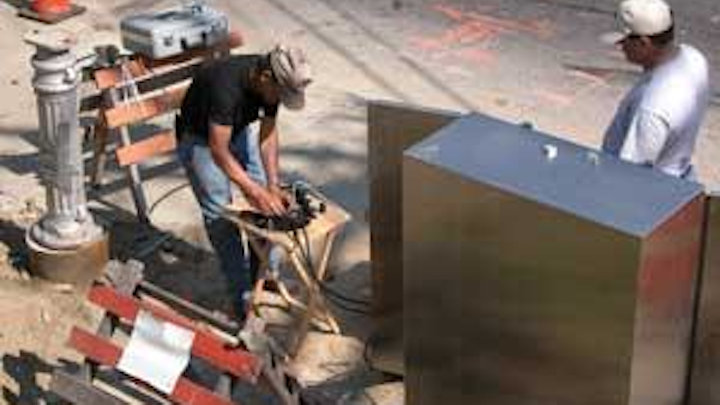 By Jim Hayes
Installing a municipal traffic control system
Click here to enlarge image
Managing a fiber optic installation can be the easiest part of the project if the design and planning has been done thoroughly and a competent contractor chosen, or, if not, the hardest. But even assuming everything has been done right, things are still likely to go wrong. Here are some guidelines for managing a fiber optic installation project that can minimize the problems associated with it.
First, someone has to be in charge, and during the project, that person must be readily available for consultation and updates. While this may sound obvious, sometimes the user's representative has other responsibilities— often they are the IT or facilities manager— and may not be able or willing to direct full attention to the project. Whoever is assigned the task of managing the project must be involved full time. If necessary, delegate responsibility to the contracting construction supervisor with written requirements for daily reports and personal updates.
Make certain that everyone responsible for parts of the project have copies of, have reviewed and are intimately familiar with the install plan. Everyone should have toured the relevant sites and be familiar with locations. They must also know who to contact about questions on the sites, the designs, the components and anything else involved. Everyone needs to have contact information for each other (cell phones usually, since email may be too slow; instant messaging will probably not be available to field workers).
Locations of components, tools and supplies should be known to all personnel. On larger jobs, managing materials may be a full time job. Special equipment, like fiber optic splicing trailers or bucket trucks, should be scheduled as needed. Outside plant installs may require local authorities or the company-contracted security company to provide security personnel for protecting installation personnel on public sites, so they become involved in the scheduling. Security may also be required for overnight protection of equipment and supplies on the job site.
Installing fiber to a security camera from a bucket.
Click here to enlarge image
If the project is large enough to last several days or more, daily meetings to review the day's progress may be advisable. At a minimum, it should involve the on-site construction supervisor and the user's person in charge of the project. As long as things are going well, such a meeting should be short and perhaps only requires a conference call.
Of course, one expects the installation to be done in a "neat and workmanlike manner". The National Electrical Contractors Association (NECA) and The Fiber Optic Association (FOA) have cooperated in creating a standard that defines what that means in fiber optic installations. NECA/FOA 301-2004, Installing and Testing Fiber Optic Cables, is available from NECA. This document is a good reference for both the contractor and the user, as it covers all aspects of the installation, including the topics we cover here, and is designed as a reference standard for contracts on installation jobs. Note that the NECA/FOA standard also covers safety aspects of fiber optic installations, a subject that is vitally important to have a successful installation.
Test data on the installation provides the customer with proof that the contractor did the job as specified, so it is important to make sure the design phase covers how the contractor is expected to test the installation. It is rare that a user understands fiber optic testing requirements, so reference to the NECA/FOA 301 standard as part of the project bid package and contract is a good practice. The contractor should be given references to standards that show which tests are required for all parts of the project.
What if things go bad? Here judgment calls are important. If (or more likely when) something happens, obviously it is the responsibility of the onsite supervisor to decide quickly if they can take care of it, or, if not, who needs to be brought in and who needs to be notified. By reviewing progress regularly, disruptions can be minimized. Equipment failures (e.g. a fusion splicer) can slow progress, but cable laying can continue, with splicing resumed as soon as replacement equipment is available. Problems with termination should be reviewed by an installer with lots of experience and the cure may require new supplies or turning termination over to more experienced personnel.
Trenching for fiber optic conduit.
Click here to enlarge image
Documentation is what should be expected as proof the job was done correctly and provide approval to the process of payment to the contractor. Documentation includes drawings of cable runs, tables of connection data and test data on every fiber in the cable plant. Documentation is expensive but always worth more than it cost! The contractor must provide exactly what the customer expects and be prepared to provide it in a format they can understand. Remember to include it as a line item in your bid package.
Remember the usefulness of documentation goes beyond proving the installation was done correctly. It is needed for future moves, adds and changes (MACs) and restoration of outages. If the user agrees, the contractor should keep a copy for their records (adding photos if possible) to use if they are ever called on to work on the same installation again or to assist in an emergency restoration.
Plan for restoration during the project. Most fiber optic network users don't expect to have problems, but it's an oversight on their part. Consider during the design phase that problems can occur and plan ahead to alleviate the pain of restoration. Purchasing excess cable, saving leftovers from the installation and storing it onsite to replace broken or cut cables or to splice into long runs after a cable cut should be part of the job.
Keeping a file on the installation detailing all the components used and the complete documentation can help both you and them. They will know who to call for assistance and you will have the information you need to promptly troubleshoot the problem and implement a fix.
Following the completion of the install, all relevant personnel should meet, review the project results, provide final data for the documentation and decide if anything else needs to be done before closing the project. Clean up all the job sites, store all the leftover components, all the files and documentation, lock all the access points to the network and enjoy the bandwidth. Finally, remember that fiber optic networks do not need maintenance and almost any inspection procedures will do more potential harm than good.
---
About the Author:
Jim Hayes of VDV Works is a writer/trainer and President of The Fiber Optic Association. For the last 30 years, he has been involved with fiber optics and communications. A frequent lecturer on communications, he is also the author of two textbooks, The Fiber Optic Technicians Manual and Data, Voice and Video Cabling, and numerous articles on fiber optics and cabling.
---

Choosing a Fiber Optic Contractor
One of the keys to successful fiber optic projects is to have a competent contractor. Customers for fiber optic installation should expect the contractor/installer to be more knowledgeable about and experienced with fiber optics than they are. That's not just because most users are new to fiber optics or rarely contract for fiber optic installations, but because they have other things to worry about, like running a large computer network, security system or just their own business. They look for someone that will not only do a fiber optic installation, but can guide them through the process, providing support before, during and after installation, in a way that inspires confidence.
The competent fiber optic contractor will be able to work with the customer in each installation through six stages of the project: design, installation, testing, troubleshooting, documentation and restoration. Each stage has its own requirements for knowledge and skills.
Once the contractor has the assignment, they should be able to help the customer choose the right kinds of cables, connectors and hardware for the installation. The contractor should know which components meet industry standards which will ensure interoperability and future expandability. The experienced contractor also may help in the choice of vendors. Experience with particular product types and vendors will allow the contractor to not only assist the customer, but also to choose products that make the installation faster and easier.
The actual installation process can involve more than just putting in cable and terminating it. If the contractor is knowledgeable, the user will sometimes ask the contractor to purchase, receive, inspect and bring components to the work site. Having full control of the materials process can also make life easier for the contractor, as they have a better chance to keep on schedule rather than depending on a customer who has many other priorities. Plus, they can choose components they are familiar with, facilitating the actual installation process.
When evaluating contractors for a fiber optic installation, what users are looking for is someone with knowledge and experience in similar jobs. Look for references from previous customers and ask if you can use them as a reference. Look for experience with components like your cable plant is using, for example, contractors installing singlemode cable plants should be experienced with singlemode fiber, especially splicing and testing techniques. If you are using a specific type of connector, it's wise to find a contractor with experience with that type to ensure that their experience is relevant. Customers also want to feel confident that the actual workers are competent, so certifications like the FOA CFOT (see www.thefoa.org) are reasonable to expect.