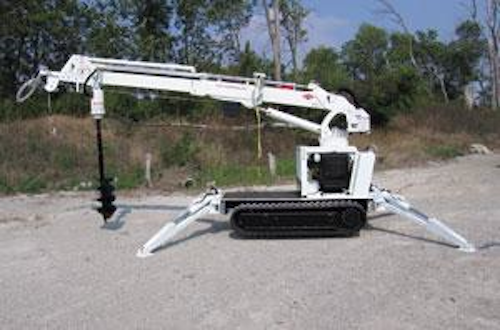 S.D.P. Manufacturing now offers a new mini-digger derrick, the EZ Hauler 3800. S.D.P.'s EZ Hauler 3800 is a track-driven mini-digger derrick that will go places you wouldn't think of taking a line truck. Try driving a line truck through a 36-inch gate, for instance! The EZ Hauler 3800 easily drives through tight spaces. Once you get to the work site, the EZ Hauler 3800 has the power to finish the job, with its 3,800-pound lift capacity and its ability to set utility poles up to 50 feet long with ease. With the EZ Hauler 3800, nothing is impossible.
The EZ Hauler 3800 is not only a mini-digger derrick, but has the ability to perform as a crane and a bucket truck. It is mainly used for backyard easement.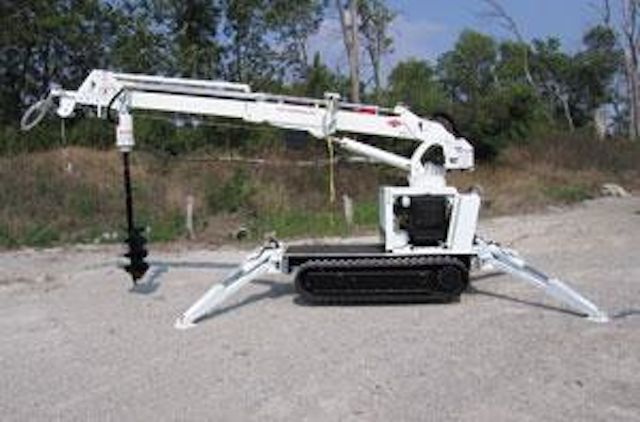 Click here to enlarge image
All EZ Hauler 3800 digger derricks are tested to ANSI A10.31 – 1995 specifications. This includes a structural overload test, stability test and stability tests for the bucket attachment. These tests are true 360-degree stability checks giving every 3800 machine an actual 360-degree work zone and not a severely limited work area off the rear of the machine. The design and testing of an EZ Hauler 3800 is what allows it to lift more in its worst working position than competitive machines do in there best positions. Each machine is also dielectrically tested to 46 kv category C qualifications and each go through a 14-page test document and rigorous testing that covers the full range of machine functions. All of this testing is completed to each and every machine that is built by SDP Mfg. to insure that the safest and highest quality product is delivered each and every time.
Click here to enlarge image
The main reasons to choose the EZ Hauler 3800 are as follows:
Working height of 41 feet - The EZ Hauler 3800 does not use heavy pin on style jibs to have this working height and does not de-rate its capacities when working at this height. Any other easement machine on the market is de-rated above 32 feet.
360 degree work zone - The EZ Hauler 3800 has a 360-degree non-rated work zone. SDP believes this creates a much safer machine for the operators, as they do not have to constantly guess at the work zone around the machine they are operating in.
3000-pound carrying capacity - This is accomplished with no awkward pin on attachments. The EZ Hauler 3800 makes transporting transformers both safe and easy for the operator.
True hands off outrigger placement - The EZ Hauler 3800 uses a radial design outrigger that requires no awkward manual pinning before placement. The outrigger design also allows for the carrying of utility poles up to 3000 lbs. to be carried easily to the job site.
Unit Stability - The EZ Hauler 3800 is designed to operate on a 10-degree side slope and can climb at incline to 30 degrees.
Unit Testing - The EZ Hauler 3800 is tested to ANSI A 10.31 and applicable A 92.2 standards. This insures a safe and reliable unit is delivered each and every time to the customer. Each unit's stability, structural and dielectric tests are available with each and every machine upon delivery.
Optional equipment - The EZ Hauler 3800 comes standard with hydraulic overload protection, wireless remote control, hydraulic pole guide, pole carrying ability, continuous boom rotation and hydraulically extended and retracted rubber track drive system. These are all options that some competitors either do not offer or charge extra for.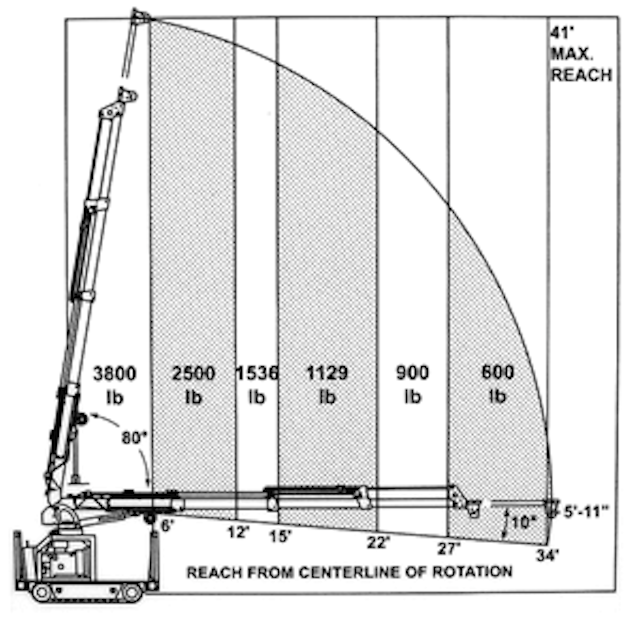 Click here to enlarge image
All EZ Hauler 3800s are transported on a 7500 LPF tandex axle trailer. The trailer has a gross tandem axle capacity of 12,000 lbs. It has an overall length of 21 feet and a width of 8 feet. Electric brakes are standard with the option of hydraulic surge brakes. The 3800's trailer also is equipped with a heavy aluminum gauge plate toolbox, with inside dimensions of 29 inches long, 10 inches wide and 18 inches high.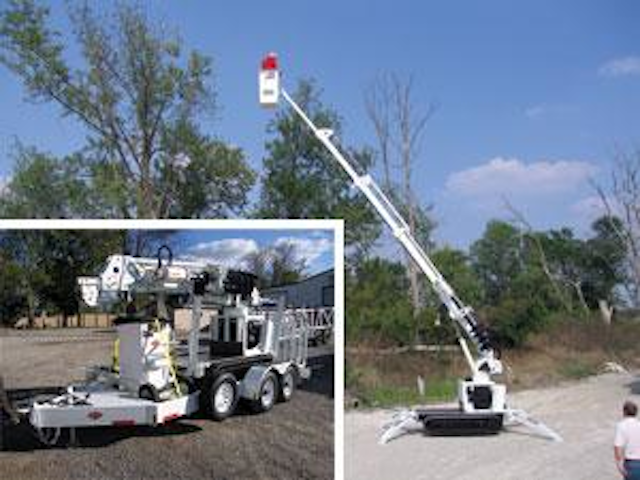 Click here to enlarge image
The EZ Hauler 3800 is the latest model of the S.D.P. family. They also manufacture the EZ Hauler 2500 and the EZ Hauler Aerial.
---
General Specs For The EZ Hauler 3800:
Hydraulic track drive;
Skid steer;
Hydraulically extended tracks;
41-foot work height;
36-horse power diesel engine;
Full 360-degree continuous rotation;
Full 360-degree non-zone rated work area;
3800-lb. Lifting capacity;
Meets or exceeds ANSI A92.2 – 2001, A10.31-1995, and SAE requirements;
Meets 46kv Category C dielectricqualifications;
Complete test documentation provided upon request; and
Pin on bucket with 300 lb. Cap. 44 foot working height.
Length
Overall, length including crane is 13 ft.;
Chassis length is 9 ft. 10 in.; and
Length with outriggers fully extended is 16 ft. 7 in.
Width
Overall, width with tracks extended is 48 in.;
Width without tracks extended 35.5 in.; and
Width with outriggers fully extended is 11 ft.
Height
Overall, height including crane is 7 ft. 10 in.;
Chassis height is 56 in.;
Height with outriggers fully extended is 92 in.;
Lifting height with crane fully elevated, fully extended and outriggers fully extended is 43 ft.