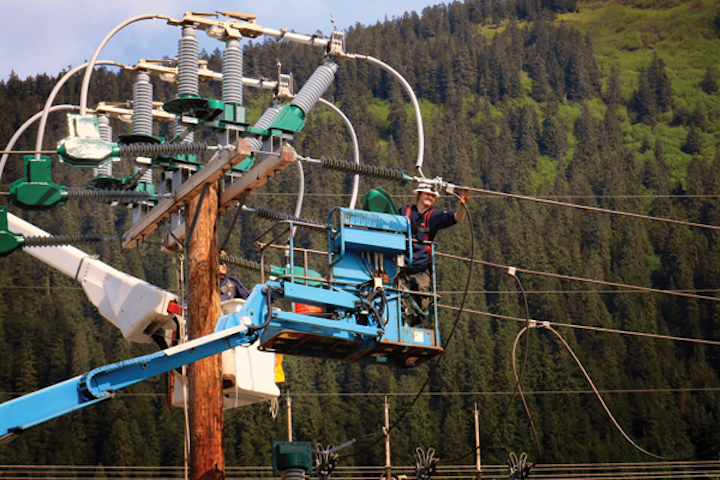 Alaska Electric Light and Power manages eagle-related outages with cover solution
By Eric Eriksen
Headquartered in Juneau, Alaska Electric Light and Power Company (AEL&P) provides retail electric service for approximately 16,768 customers. Reliability is a priority for AEL&P, as it is for all utilities, and wildlife mitigation efforts have contributed to improvement in AEL&P's reliability statistics.
The Lemon Creek substation is a key site for AEL&P in supplying backup power and electrical distribution to the city of Juneau. It is located near a landfill, which, as a food source, attracts many species of birds.
At times, literally hundreds of bald eagles congregate in the area and are very active in the substation as well. Eagles are some of the largest avian species, with wings spanning over six feet across, potentially resulting in contact with wider electrical component spacing associated with high-voltage equipment. In addition, eagle excrement can cause flash overs. These "streamers" can be up to six feet long.
"In all my years of attending substations for maintenance work, I have never witnessed such a large grouping of bald eagles and ravens located near an in-service substation," Joe Hacke, a 35-year lineman from Canada, said of the Lemon Creek substation. "There is a garbage dump adjacent to the substation, which is why they were there. This station was definitely in need of some quality cover-up to reduce the station impacts, according to the people I met on-site."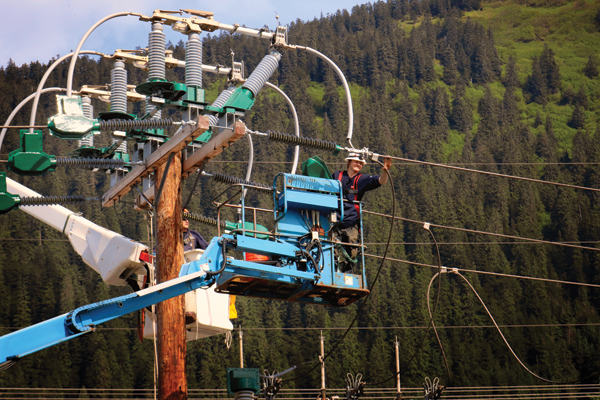 Greenjacket is a precise-fit engineered cover-up solution for the mitigation of wildlife-caused outages on substation equipment.
AEL&P averages about one eagle-related transmission outage per year at the Lemon Creek substation. These interruptions affect about 58 percent of the utility's customers and it takes about 41 minutes to restore power to everyone. It negatively impacts the community — and the eagles.
AEL&P had been proactively investigating and testing several avian protection options available in the marketplace. These efforts helped, but there was still a need for further improvement. Following a significant eagle-caused outage that was reported on by the media, an animal-mitigation company reached out to AEL&P to offer assistance in solving these issues. AEL&P recognized that the proposed cover-up solution was unique and would be best able to address the challenges they faced.
Greenjacket is a precise-fit engineered cover-up for the mitigation of wildlife-caused outages on substation equipment. A precise fit is achieved through equipment imaging that collects data on the exact dimensions of the equipment. Greenjacket then processes the data and makes recommendations on where cover-up should be applied based on outage history and equipment risk points. A resulting Site Protection Plan is prepared in order to gain consensus and input from customers on the cover-up application. The Greenjacket cover-up is then manufactured to order. Unlimited cover types are available to fit any type of equipment or equipment configuration, with over 1,000 molds created to date.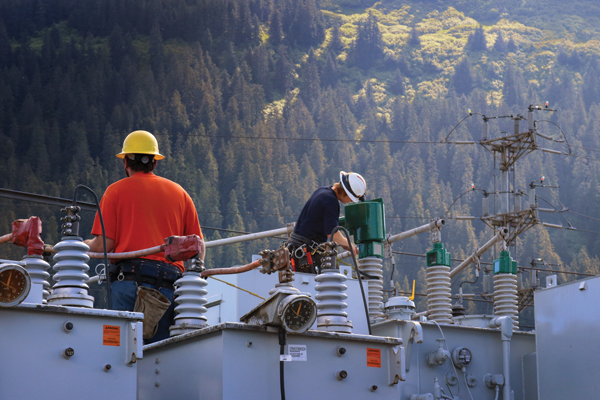 To install the covers, AEL&P had to isolate part of the transmission and distribution system.
The Lemon Creek site has several generation tie transformers, distribution transformers, voltage regulators, disconnect switches, buss, jumpers, lightning arrestors, PTs, vertical orientated transmission switches, and steel poles that have unique configurations. Only the made-to-order product could properly protect these unique configurations.
Besides the high concentration of bald eagles, a number of other challenges came with the project. To install the covers, AEL&P had to isolate part of the transmission and distribution system, which required running diesel backup, which is costlier than the normal 100-percent-hydro power generation.
Timely and efficient installation was extremely important. The solution team provided online installation video instructions, well organized packaging, detailed assembly instructions, and field service assistance. In the end, AEL&P was very satisfied with the precision and success of the timely install, resulting in lower costs to its customers.
Given that the frequency of incidents averages one per year, if a year passes without incident, the project will be deemed successful. AEL&P customers will appreciate the added electric service reliability — and the extra protection for the birds. UP
The Author:Eric Eriksen, P.E., M.B.A., is vice president of transmission and distribution for Alaska Electric Light & Power, an Avista Utilities company. In his 20-year career, he has led many innovative projects. He volunteers his time on the Alaska Emerging Energy Technology Board, Juneau Chamber of Commerce Board, and is a private bush pilot in Alaska.