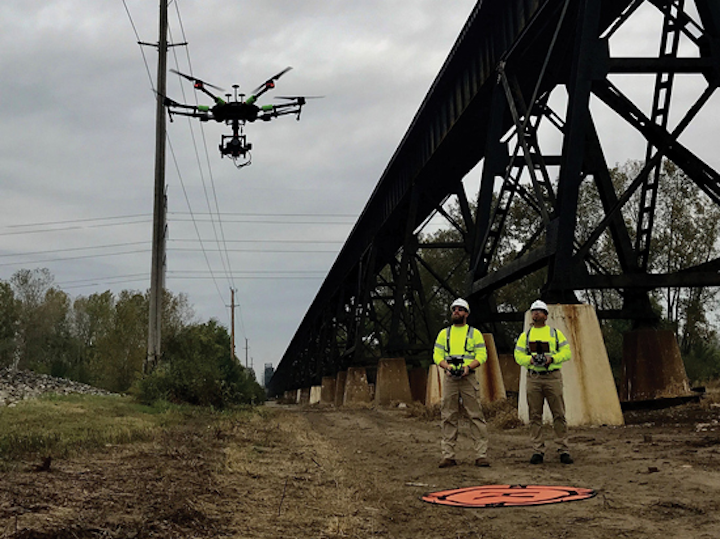 Attaining Safety, Data and Cost Value with Drone Inspections
By Ed Hine
With more than 350,000 miles of transmission lines crisscrossing the United States, public and private utilities have found a new and innovative way to conduct necessary inspections that deliver measurable benefits: drones. These small unmanned aerial systems, piloted by a two-person team consisting of a pilot and a sensor operator, both stationed safely on the ground, can do the job of a manned helicopter while delivering objective, accurate and actionable data.
Over the last three years, drones have gained credibility within the utilities industry thanks to their ability to deliver reliable data outcomes via advanced sensors and sophisticated hardware, yet there is still plenty of room for growth. Regulation and acceptance of drone services as a replacement for legacy inspection techniques still hold back the opportunity for savings realization.
Progressive utilities with growing portfolios of assets who have integrated drones into their operations are reaping the business benefits of the information captured by drones — especially those that can fly beyond visual line of sight (BVLOS). Daily, these forward-thinking utilities are turning that data into actionable insights. For these organizations, drones have proven their value in safety, data accuracy and costs.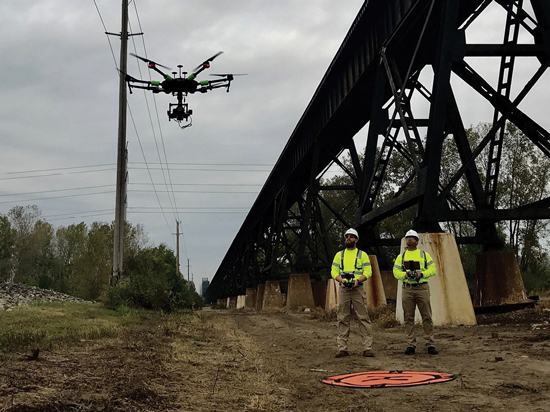 Drones, piloted by a two-person team stationed safely on the ground, can do the job of a manned helicopter while delivering objective, accurate and actionable data.
Safety
Flying a drone is often safer than using manned aircraft, such as helicopters, for routine inspections. The hazards represented by helicopters present a greater risk when measured in both likelihood and severity. By comparison, the severity of a potential drone crash is relatively low. If a drone were to crash, it likely wouldn't result in injury or death of the crew. Should a drone impact a structure it was inspecting, the damage that might be incurred would be nowhere near comparable to even a modest manned helicopter.
It's a similar story when compared to traditional inspections on foot. Tower climbing, when a technician may need to climb utility structures in order to assess for damages, is considered one of the most dangerous jobs. Here the use of drones enables safer, more efficient collection of actionable data, in this case in the form of high-resolution imagery. From a safety perspective, drones are a smart technology alternative to manual inspections and offer the opportunity to avoid the hazards associated with climbing or helicopter operations.
Costs
Drones are proving their value in the finance department for utilities organizations as well. Typical costs for contracting a helicopter pilot and sensor operator are approximately $1,500 per rotor hour, which includes the delivery of an inspection report. With drone inspection, a service provider will typically charge within the range of $75 to $450 an hour, depending on the type of operation. Helicopters may have a speed advantage, but that does little to change the fact that, on a per-mile or per-structure basis, drones are the cheaper alternative.
In the unlikely event of an accident, not only could there be the tragic loss of life but the costs of a helicopter crash can run in the millions of dollars. The cost of insurance — which can be as high as three to five percent of the helicopter hull value — and crash payouts are carried by the pilot's policy. Factoring in a worker's compensation settlement of between $250,000 and $1 million for the pilot and any other pilot or employee aboard — not to mention a reputation hit and public relations crisis for the utility company — the costs of contracting with pilots can be astronomical and are difficult to recover from.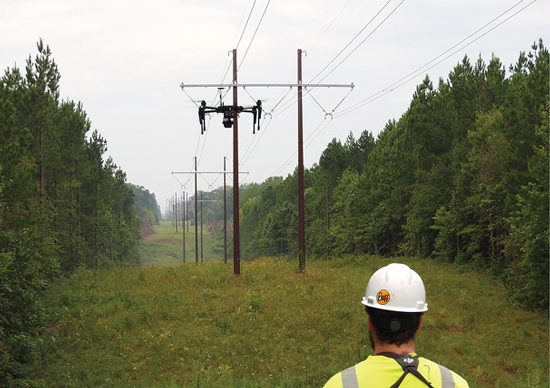 From a safety perspective, drones are a smart technology alternative to manual inspections and offer the opportunity to avoid the hazards associated with climbing.
Data Fidelity and Accuracy
The power of drone technology is hard to overstate when it comes to data fidelity and accuracy. Legacy collection techniques are relatively inconsistent and deliver information of lower fidelity, often relying on form entry via a catalog of source data. Drone missions can capture higher-fidelity data faster and across a larger area while yielding more accurate results.
Looking at equipment inventory, one of the more basic missions, drones can rapidly collect data across a range of assets. That data can easily be assessed, the equipment on each asset classified and cataloged with an update to the host utility's geographic information system (GIS), and a source record of the condition of the equipment time-stamped and GPS-tagged as a highly desirable end state. In this simplified example, a single data set can easily support multiple business functions, serving key stakeholders across the enterprise from vegetation management to operations to construction.
Drones also offer a level of comparative analysis that can't be achieved with helicopter inspection. When using drones that are artificial intelligence (AI)-enabled, a director of operations can build an extremely precise digital twin model of much higher quality than what one would get from LiDAR or helicopter photogrammetry. With a digital record that can be treated as archival data and mined year over year, one can mobilize imagery for the exact same spot without traveling again, using AI to assess issues and develop cost estimates. Equipped with this level of data, utilities can perform better comparative analysis over several periods of inspection across distribution equipment or transmission lines, and therefore be more proactive with repairing or replacing equipment prior to failure.
The Bottom Line
Drone operations offer a significant advancement for inspections, but they shouldn't be considered a magic pill that can revolutionize your operation and maintenance budgeting cycles or change the game overnight. While drones can offer a more cost-effective inspection process and an opportunity to rapidly service multiple lines of business simultaneously, a drone program requires deliberate focus and investment. Simply contracting a company for a proof of concept is unlikely to yield transformative change. Diligence is required, from both a planning and business model perspective, and true vendor partnerships are needed to achieve real value over the long run. UP
The Author: Ed Hine is vice president of operations at PrecisionHawk, where he leads a team of over 100 pilots, project managers and sales professionals within the company's energy line of business. Learn more at www.precisionhawk.com.