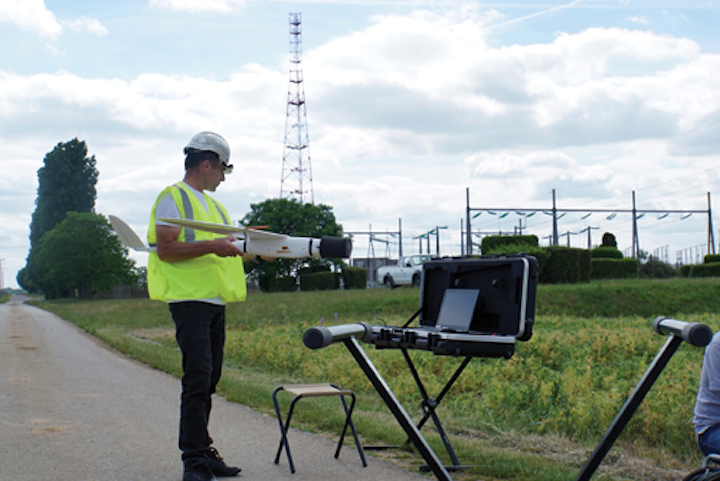 Fixed wing drones cover areas not possible or
practical by other surveying approaches
By Isaac Bruns
Power line inspections are an expensive, time-consuming affair. The California Public Utilities Commission requires a visual inspection of each power line every 1–2 years and a detailed inspection every 3–5 years, a frequency typical of most states. Such inspections usually require one of three methods: walk, drive, or fly. For rural power lines in remote areas, rough terrain makes walking or driving nearly impossible — not to mention excruciatingly slow. As a result, most utility companies opt for helicopter-based power line inspections.
But helicopters are noisy, ecologically unsustainable, and expensive. An average contract for a helicopter power line inspection costs more than $4,000 per day, and if a utility decides to purchase its own specialized helicopter, the price tag can run up to more than $2 million, not including operational, maintenance, and repair costs.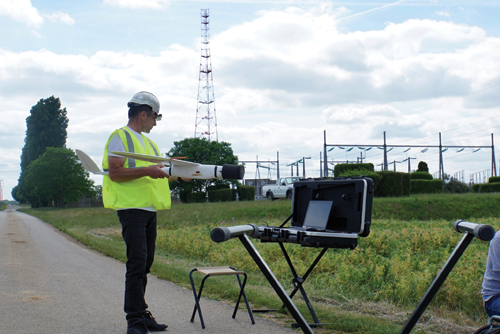 Lightweight, portable and easy to deploy and use in even hard-to-reach locations, fixed wing drones provide many advantages over other aerial-based data gathering approaches.
But there is a quieter, cleaner, cheaper option for aerial power line inspections: drones.
Also known as Unmanned Aerial Vehicles (UAV), drones are being widely adopted by energy and utilities companies for a variety of applications. For example, Duke Energy is using drones to conduct infrared equipment inspections, survey storm damage, and inspect tall structures.1 SoCalGas deployed drones with methane sensors to assess pipelines and check for leaks after a major mudslide.2
One company helping enable the widespread use of drones is Delair, a long-range UAV manufacturing and aerial data processing company.
"Fixed-wing drones are the future of aerial-based asset management in the utility market because they offer a range of advantages over other methods, such as helicopters," said Paolo Guzzini, Delair's power and utilities product manager and an expert in utility aviation. With more than 10 years of experience in major European utilities, including five years as aerial fleet manager for Terna (the largest transmission system operator in Italy), Guzzini has seen drones develop from an experimental technology to a legitimate replacement for manned aircraft in many applications.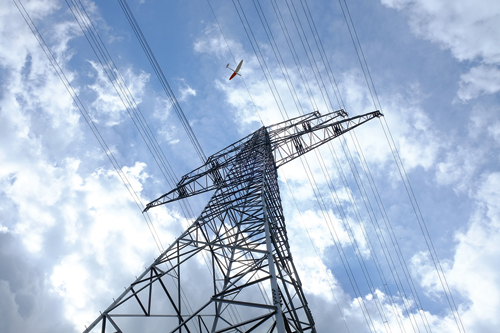 Fixed wing drones are becoming more widely used by utility operators who see lower cost, reduced risk and more environmentally conscious benefits compared to helicopters and other types of manned aircraft.
Today, power and utilities companies who use UAVs primarily deploy commonly available quad-rotor drones capable of precise flight and hovering. But such aircraft have inherent limitations.
"The common factor [among] all multirotor drones, from cheap retail models to expensive professional models, is their limited range," Guzzini said. "We're talking about 20–30 minutes of flight time, and these drones are mostly just used today to provide a different point of view in taking pictures."
That's why Delair focuses on fixed-wing drones — UAVs with a body shaped like an airplane but far more compact and portable. Compared to multirotor drones, fixed-wing drones offer up to four times longer flight endurance and are capable of carrying much heavier payloads, including the same types of advanced sensor packages found in helicopters. Even in locations with limited suitable deployment area, Delair's unique BTOL (birdlike takeoff and landing) feature enables short-distance takeoffs and precise landings without damaging the aircraft.
"Fixed-wing drones have all the features that are required to be effective and efficient, and they have a longer endurance than multirotor drones," Guzzini said. "They have a good payload capability that makes them competitive against helicopters, and they're very easy to operate."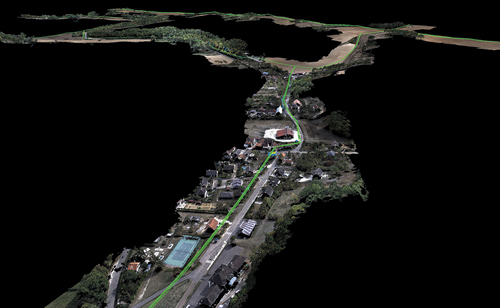 The altitude and flying distance with which fixed wing drones equipped with advanced sensors and imaging technology can operate make them extremely useful for mapping and surveying large-scale utility construction projects.
Delair's drones are already conducting data collection surveys that were previously only possible by manned aircraft or even satellite imagery, and are used in industries such as agriculture, oil and gas, mining, construction and, increasingly, in utilities and energy. Some of the most common uses of drones by utility companies, according to Guzzini, are asset management (including digitizing asset information, analyzing vegetation encroachment and performing infrared inspections on power lines), emergency surveillance, and construction site mapping.
In Iceland, for example, Delair conducted two surveys on behalf of EFLA Consulting Engineers, a general engineering and consulting company. EFLA needed to map existing power lines and survey an area where Landsnet, the main transmission system operator in Iceland, planned to build a new power line between two cities. Delair deployed fixed-wing drones to gather two types of data: photogrammetry and LiDAR. Meaning "light radar," LiDAR is a sensor that sends and receives thousands of pulses of laser light per second, creating a highly-detailed three-dimensional point cloud of structures and topography.
Soaring over difficult terrain, Delair's drones were able to capture comprehensive data along the planned route and deliver the processed results to the client the next day — all at a fraction of the cost of hiring a helicopter or ground crew.
Delair conducted a similar survey on behalf of Électricité de France (EDF), a French electric utility company. Using photogrammetry data, Delair created two-dimensional and three-dimensional maps of the entire transmission line corridor of French Guiana, enabling EDF to analyze vegetation encroachment along the corridor and take action as needed.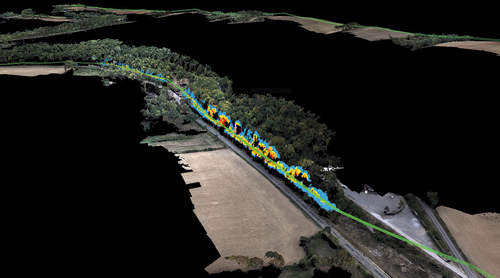 Drones are being used by many utilities for monitoring vegetation encroachment along power line routes, especially in hard-to-reach locations and in difficult terrain.
Drones have brought huge benefits to power and utilities companies in terms of safety. Since drones are unmanned, no one needs to be inside an aircraft flying at low altitudes parallel to transmission lines.
"All utilities have the safety issue in mind because maintaining lines is a risky job," Guzzini said. "Drones provide an incredible added value because they're a safe solution to dangerous work."
Drones are also far less intrusive than helicopters. Guzzini noted that many communities complain about the noise and disruption as helicopters inspect power lines on or near their property. A fixed-wing drone, on the other hand, can conduct the same survey almost noiselessly.
"Approaches that are less visible for maintaining the line or for carrying out service have a great public relations benefit," Guzzini said. "It's something that today, in some cases, has an added value even higher than cost."
But the biggest benefit is financial savings. Guzzini estimated that a utility company could purchase 20 drones for the same price as a fully-equipped helicopter, and since UAVs operate with minimal costs per flight — and use batteries rather than aviation fuel — they can improve efficiency both economically and ecologically.
With fixed-wing drones bringing significant benefits to companies around the world who deploy them, why aren't we seeing them used on a large scale in the United States? The answer, currently, is regulations.
The FAA requires that a drone remain within its pilot's visual line of sight throughout the entire flight. Flights beyond the visual line of sight (BVLOS) are only allowed if a company receives a waiver from the FAA specifically exempting them from this regulation — a waiver that is exceptionally difficult to obtain.
But UAV regulations are changing rapidly. In September 2018, Xcel Energy became the first utility to conduct a BVLOS operation in the United States.3 As of the writing of this article, 28 BVLOS 107.31 waivers have been approved, with 18 in the last 12 months.4 And as the FAA continues to release new advancements in drone regulations — such as Low Altitude Authorization and Notification Capability (LAANC), an automated application and approval process for nearly instant airspace authorizations — Guzzini believes it is only a matter of time before BVLOS flights become commonplace.
"The biggest challenge to more widespread use of drones today is the regulations," he said. "My hope is that as we prove the viability of these devices to the FAA, we can open up more and more possibilities."
In some areas of the world, Delair has even been able to control flights via a 3G data connection, allowing a drone to inspect up to 30 miles in a single flight. In the United States, Guzzini expects to see many such long-distance UAV operations in the near future, making drones fully competitive against helicopters.
"Restrictions on BVLOS are changing," he said. "Now we have more than 20 companies that are operating beyond visual line of sight in the U.S. but still with some restrictions. That's something that wasn't there a year ago. In another year, who knows where we can go." UP
The Author: Isaac Bruns is a freelance content writer and journalist from Portland, Oregon. He is a tech enthusiast and a recent graduate of George Fox University.
References
1. Wells, Jessica. "5 ways Duke Energy is using drone technology," Duke Energy Corporation, June 7, 2018, https://illumination.duke-energy.com/articles/5-ways-duke-energy-is-using-drone-technology, accessed Jan. 2, 2019.
2. "SoCalGas Study Offers Lessons in Resiliency Planning to Help Communities and Utilities Prepare for Disasters," Southern California Gas Company, Oct. 30, 2018, https://sempra.mediaroom.com/index.php?s=19080&item=137540, accessed Jan. 2, 2019.
3. Patel, Sonal. "In an Industry First, Xcel Energy Flies a Drone BVLOS," Power Magazine, Sept. 13, 2018, https://www.powermag.com/in-an-industry-first-xcel-energy-flies-a-drone-bvlos/, accessed Jan. 2, 2019.
4. "Part 107 Waivers Issued," Federal Aviation Administration, https://www.faa.gov/uas/commercial_operators/part_107_waivers/waivers_issued/, accessed Jan. 2, 2019.