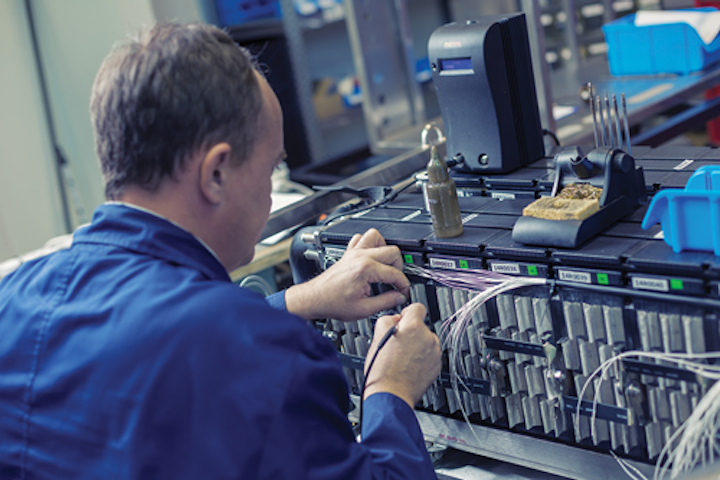 In the continued global shift toward renewable energy generation, microgrids enable communities to improve local energy delivery by leveraging the best of green technologies
By Gil Shavit
There's currently a lot of talk about how we support environmental legislation while balancing a grid under pressure, not to mention how to meet future energy demands. In answering those questions, there are many different solutions being discussed and explored.
In North and South America specifically, frequent severe weather incidents that bring down grid power for weeks and months, such as 2017's Hurricane Irma, require much more direct and immediate solutions. And this is where the use of a decentralized grid — or microgrids — is not only being trialed for critical backup power but, for some more remote communities, used as mainstream primary power too. For the modern utility business, these solutions are increasingly viewed as very compelling business models.
The compromise for many, though, has been the continued reliance on polluting and environmentally unfriendly diesel generator technology to support these projects. However, there's now a 100 percent clean, weather independent solution that's ready to replace diesel generators — and provide a host of other benefits too: the modern fuel cell.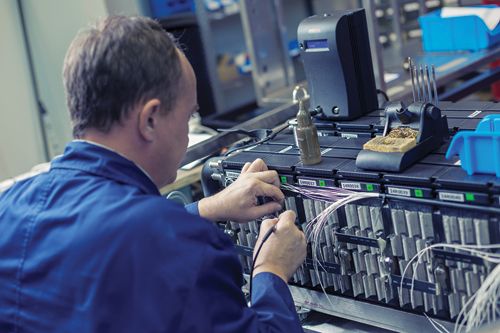 Fuel cells offer a green alternative to batteries and diesel generators for ultra-reliable, long-duration backup power.
What Is a Microgrid?
According to the U.S. Department of Energy (DOE), a microgrid is "a local energy grid with control capability, which means it can disconnect from the traditional grid and operate autonomously. A microgrid can be powered by distributed generators, batteries, and/or renewable resources like solar panels. Depending on how it's fueled and how its requirements are managed, a microgrid might run indefinitely."
Essentially, a microgrid can back up the grid or operate independently. This makes them hugely attractive to local communities wishing to take control of their power generation, as well as rural communities looking for robust and independent electricity supply.
In the continued global shift toward renewable energy generation to counter the effects of climate change, microgrids enable communities large and small to improve local energy delivery by leveraging the best of green technologies. Very often, various renewable technologies such as wind turbines and solar panels can be placed within residential buildings alongside a battery to provide an alternative power source to the grid — not only providing environmental benefits but also increasing energy efficiency and cost savings. However, the performance of renewables is subject to variable weather conditions, which frustrates their ability to provide 100 percent reliability.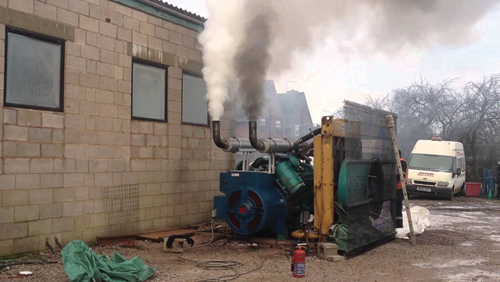 Diesel generator technology has been responsible for several harmful effects on the environment.
And with the ever-increasing consumer demand for power, renewable reliability is possibly one of the biggest challenges that the microgrid market faces today. Additionally, the use of diesel generators to support them is also considered a big barrier.
So, who owns these microgrids? Some are independently owned by local communities, some are funded by venture capitalists/investors, and some are embedded and owned by our existing utility providers and islanded off when critical backup is needed.
But crucially, all the evidence suggests that their business models stack up, both for local communities looking to reduce energy costs and retain control as well as for utilities looking to diversify, increase energy resilience, and add customer value and new revenue streams.
How Big Is the North American Power Problem?
The energy backup issue is significant. According to the DOE, the United States suffers more blackouts than any other country in the developed world. The DOE also reports that power outages lasting more than an hour are increasing and cost American businesses around $150 billion a year. And, the implications of these blackouts are more far reaching than just financial losses.
To help tackle this, microgrids are on the rise and they're already helping to prepare communities by providing the critical backup power to replace the grid should it go down. For many, they're also providing important savings too.
Replacing Diesel Generators
with Green Ultra-Reliable Power
To ensure that microgrids are sustainable, attention has now turned to the use of diesel generators and how to reduce their use or bring about their replacement within these environments — a previous redline for many.
In recent years, technology breakthroughs from companies like GenCell have enabled the cost of fuel cells to compete with traditional power sources, offering the first viable green alternative to batteries and diesel generators for ultra-reliable, long-duration backup power.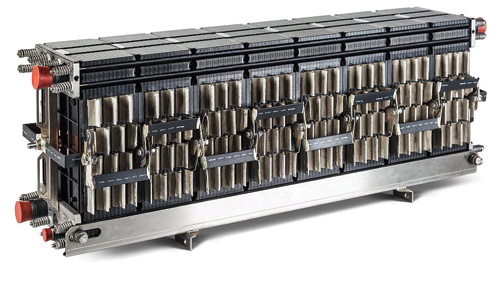 Fuel cells offer businesses and utilities the capability to store energy and regulate power flow via an energy bridge.
We're already seeing strong demand from utilities, including long-duration backup solutions for substations. But there are also projects exploring the wider potential of fuel cells for everyday applications in our towns and cities. We're seeing some pilot projects placing fuel cells in hospitals in North America and Europe to provide backup power for hospital theaters and other critical services. Others are also using fuel cells in high-rise buildings as backup power for elevator systems. Essentially, where power is critical to business or life, there's now a business case for the modern fuel cell that can offer unparalleled power reliability at an affordable price.
In fact, a compelling incentive comes from the reintroduction of a 30 percent tax credit for companies investing in renewable energy technologies, which means that the most advanced fuel cells are now more affordable than ever. The Trump administration has been driving this initiative and it will remain for the next three years, significantly reducing the capital expenditure (CAPEX) for utilities looking to introduce the technology within their operations.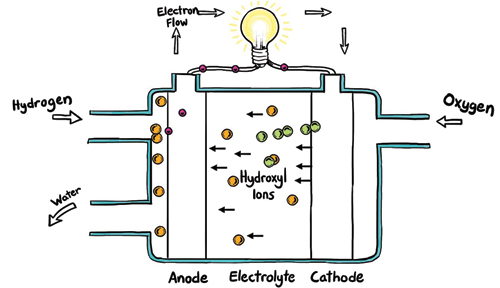 Regulating Renewables
and Providing Energy Storage
One of the inherent benefits of a fuel cell is its ability to go beyond just power generation by offering businesses and utilities the capability to also store energy and regulate power flow via an energy bridge. This energy storage facility will further support effective microgrids of the future. Typically, larger microgrids have several sources of power generation, normally including renewable solutions in their mix. But due to varying weather conditions, wind and solar can provide intermittent power. In steadying this power supply, fuel cells are ideal.
For shorter duration backup, fuel cells are already in use extending the operation duration of existing batteries, recharging them during an outage. But if there's a more sustained outage, assuming a steady supply of hydrogen, fuel cells can run 24/7, providing uninterrupted power for the SCADA and the breaker operation at the substation. For many substation managers around the world, this capability is very attractive in reducing operational stress, and for many utility CEOs, it's becoming a must-have in the fight to reduce costs and increase resilience.
As a modular and scalable technology, additional fuel cells can be added to a microgrid as our energy demands grow. Unlike solar and wind farms that require large spaces of land, fuel cells are also significantly easier to install in urban environments. Producing zero emissions, near silent and with no vibrations, fuel cells can sit outside or inside a building. In the case of hurricanes or severe weather, they can be placed within protected environments and be operational throughout and directly after the incident with no disruption to life-saving power.
In supporting microgrids, fuel cells installed in our towns and cities could essentially become energy timers or boosters. In the future, we expect to see them located at many other public buildings providing critical backup for those locations — office blocks, data centers, residential high-rises, etc. But operating in a micro­grid environment, those units would be turned on to send emergency energy back to the grid as required.
Barriers to Microgrid Adoption -
Speed of Delivery
The case for microgrids is strong and the plan for their adoption is broad. But the reality is that the speed at which microgrids can be created often comes down to how quickly the accompanying infrastructure processes can be improved. Any progress that can be made to expedite this would make a considerable difference to microgrid deployment.
For those seeking highly reliable power, microgrids in a smart grid environment have the potential to transform power in areas where grid instability is common. In bringing this about, we anticipate that the modern fuel cell will be the linchpin in closing the loop on microgrid reliability and its sustainability credentials. It seems inevitable that, ultimately, the modern utility will take a leading role in bringing this about. UP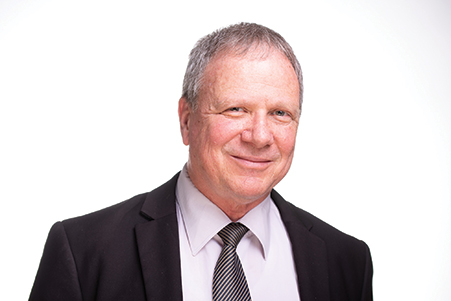 The Author: Gil Shavit is president and chief business development officer at GenCell Energy, where he works closely with utilities in the U.S. and the U.S. Department of Energy. He has over 25 years of experience in establishing innovative technology companies.