Construction equipment: T-Boom style hydraulic cranes
Utility vehicles: Stellar Industries announces its new line of hydraulic cranes, called the TC Series.
Mar 30th, 2015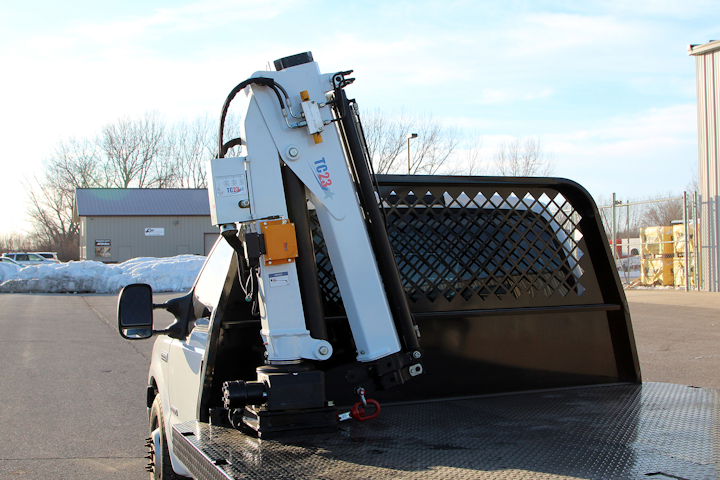 Construction projects: Stellar Industries Inc. announces its new line of hydraulic cranes, called the TC Series. The TC Series offers a combination of compact European design with an American approach to sensible crane control. The TC Series is a tall mast telescopic crane commonly referred to as a "T-Boom" crane. This design offers ultimate compactness to take up minimal bed space, yet offers up to 18.6 feet of hydraulic reach to maximize the load radius of the larger models.
This style of crane has historically operated with a manual control valve requiring the operator to be near or under a suspended load. Stellar has incorporated the use of its proprietary Stellar® CDT crane control system that operates with a handheld proportional radio remote transmitter. This will allow the operator to better position themselves around the load and their work area. In addition to the remote operation, another new feature to this line is the operator feedback system. The Stellar CDT crane control system will alert the operator of the percentage of load the crane is currently lifting using a series of lights and vibrating pulses in the handled unit.
The Stellar® T-Boom Cranes are powered by a PTO and pump located on the truck chassis. An optional 12V power unit with an integral hydraulic reservoir is available. Suggested mounting designs for a flatbed installation, as well as integral base systems to mount in front of some bodies are also available
Currently Stellar is offering 4 different models of the TC Series ranging from capacities of 2,400-pounds up to 4,520-pounds. The all-hydraulic reach varies from 8.75 feet up to 19.68 feet.
"We saw a need in the American marketplace for the use of a crane that had versatile mounting options," says Tim Davison, Product Manager for Stellar Industries. "We've taken a proven European concept and in Stellar fashion added value by incorporating our proprietary radio remote system as a standard feature." Davison continues, "Having a radio remote control takes the operator out of the danger zone and into the best position they deem necessary to get the job done, all the while getting feedback through the remote handle about the load being lifted."
For more information about Stellar Industries or other products, click here to go to Utility Products' Buyers Guide.