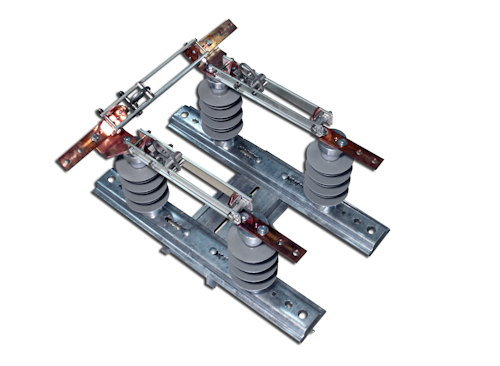 Power management company Eaton announced new disconnect and bypass switches designed to improve power reliability and simplify installation for utility customers. Eaton's Cooper Power series D-73P single-phase disconnect and bypass switches are engineered to provide durable switching, line sectionalizing and isolation on overhead distribution circuits. With UltraSIL polymer insulators, the Eaton design reduces switch weight by 40 percent compared to porcelain equivalents, making installation easier and faster for utility linemen.
"Eaton helps utilities distribute reliable, efficient and high-quality power," said Timothy Brenny, product manager at Eaton. "Through advanced engineering and support, Eaton's Cooper Power series equipment has provided utilities with decades of service and are used in distribution systems worldwide."
With UltraSIL polymer insulators, Eaton designed the Cooper Power series D-73P switches to provide advanced reliability and safety, while making the switches easier to install. The lightweight polymer makes it easier for linemen to install equipment, compared to traditional switches that use porcelain. The polymer insulators are designed to maintain mechanical strength and increased insulating performance in highly contaminated environments.
Eaton's Cooper Power series switches and disconnects are engineered to support stable high-current capability and full thermal capacity. The high-strength blades are designed to endure short-current withstand and rough operation, while a cooler current transfer path reduces hot-spots and potential failure points.
Eaton offers Cooper Power series products that provide a range of power delivery and reliability, automation and control, advanced metering and demand response solutions designed to increase efficiency and smart operations. These products serve customers in the utility, commercial, industrial, mining, renewable energy and other markets.
Eaton's electrical business is a global leader with expertise in power distribution and circuit protection; backup power protection; control and automation; lighting and security; structural solutions and wiring devices; solutions for harsh and hazardous environments; and engineering services. Eaton is positioned through its global solutions to answer today's most critical electrical power management challenges.
Eaton is a power management company with 2014 sales of $22.6 billion. Eaton provides energy-efficient solutions that help our customers effectively manage electrical, hydraulic and mechanical power more efficiently, safely and sustainably. Eaton has approximately 102,000 employees and sells products to customers in more than 175 countries.
For more information about Eaton, Cooper Power, or other products, click here to go to Utility Products' Buyers Guide.