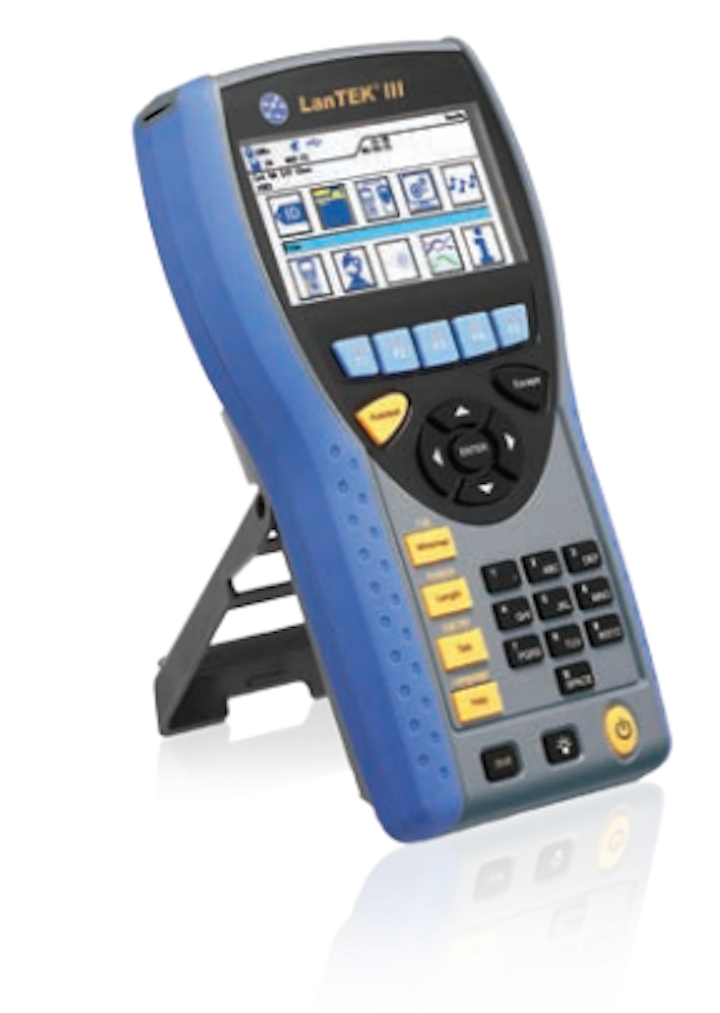 Test equipment: IDEAL Networks, a global innovator in network testing, installation and management products, announces a new online Quote Builder that enables network cable installersto easily select a cable certifier package that meets their specific job requirements, helping to drive down purchase costs.
The Quote Builder is an easy to use visual guide that enables cable installers to make an informed buying decision, while building a tailored cable certifier solution, explains Tim Widdershoven, Global Marketing Manager of IDEAL Networks: "Previously, cable certifiers have only been available in bundles which may include extra components or functionality that a customer will simply never use. Using our new Quote Builder function online, customers can 'pick and mix' from various options to find a certifier that meets their specific requirements and budget in six simple steps."
To begin, users choose either a 500MHz Cat 6A or a 1000MHz Cat 7A certifier, and then add adapters. Permanent Link (PL) adapters can be used for testing cabling from the outlet to the patch panel, or channel adapters can be used to certify the entire link, including the patch cords. Next, users select any fiber modules required, to add Tier 1 fiber optic cable certification. Following that, accessories are added, such as calibration cables, coax adapters, or an industrial Ethernet kit, if required. Finally, select a one, two or three year CarePlan providing an all-inclusive package for the calibration and maintenance of the certifier to help keep the lifetime cost low. On entering a few basic contact details, a quote will be received.
Cable installers can use the Quote Builder to specify the IDEAL LanTEK III Cable Certifier. Introduced this month, it is available in 500MHz (up to Cat6A) and 1000MHz (up to Cat7A) models. For fiber cabling, the new FiberTEK III modules can be added to the LanTEK III-500 or LanTEK III-1000 models to provide Tier 1 certification, eliminating the need for additional fiber testers. Using the free IDEAL AnyWARE mobile app, the LanTEK III enables field technicians to share test data with co-workers without leaving the jobsite or transporting testers, resulting in greater collaboration, more on-time job completions and reduced costs.
About IDEAL Networks
IDEAL Networks is a worldwide leader in data communications solutions. IDEAL Networks develops and manufactures network testers, network installation and management equipment for Local Area Networks (LAN), Wide Area Networks (WAN) and access telecom infrastructures worldwide.
IDEAL Networks was formed in 2010 when Wavetek and Trend Communications, previously acquired by IDEAL INDUSTRIES, INC. in 2001 and 2004 respectively, were merged with the IDEAL datacomm tools and connector divisions. The result was a new division focusing on all issues involving the installation and testing of local and wide area networks. By merging Trend's experience in the telecom sector, Wavetek's expertise in local network certification, and the years of experience that IDEAL has with datacomm tools and connectors, IDEAL Networks is able to offer some of the most comprehensive networking solutions in the industry for everything from installation to testing and certification.
For more information about IDEAL Networksor other products, click here to go toUtility Products' Buyers Guide.