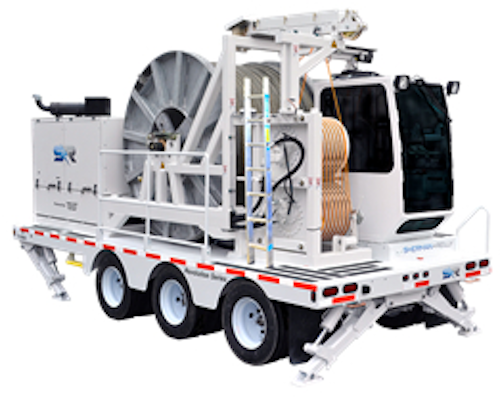 Line construction: Sherman + Reilly, a Textron Inc. company and manufacturer of power line stringing and installation equipment, offers the P-2000X Single Reel Bullwheel puller with its Revolution Series. This transmission class puller is equipped with a 175-hp industrial diesel engine capable of delivering an even 20,000 lbs. of pulling power from the start of the pull to the end and also comes with a fully hydraulic direct drive system.
The P-2000X uses an automatic horizontal levelwind that permits overhead rope retrieval with precision control. The puller is equipped with an advanced control group (ACG) that allows for a single operator at a protected central console to control payout speed, pulling speed, levelwind controls and jack position. The operator controls use electronic (CAN-bus)- controller area network communication bus technology, providing for accurate to-the-second display readouts of the machine system status.
The fully hydraulic direct drive system provides the operator with precise and intuitive automatic drive/drum braking. The P-2000X's tandem electric brake axle trailer is equipped with four hydraulic jacks, an adjustable pintle eye, safety chains/hooks, emergency brake away switch, and U.S. DOT-approved LED lighting.
For more information about Sherman + Reilly or other products, click here to go to Utility Products' Buyers Guide.