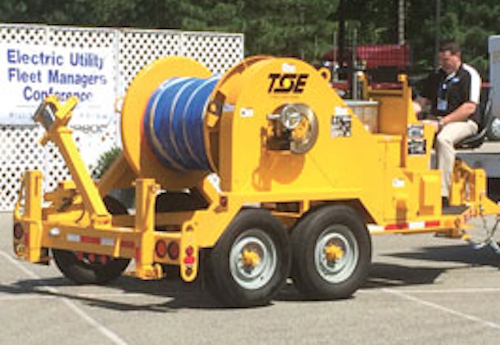 Having the correct tension stringing equipment for the construction and maintenance of electrical transmission and distribution lines helps ensure the project will go as planned and meet deadlines. Whether the project is for overhead or underground line construction, it is important that equipment meets tension stringing requirements.
TSE International, a company that designs, manufactures and markets a complete range of tension stringing equipment, offers a product line that includes specialized solutions for all overhead and underground pulling units, tensioners, stringing blocks, swivels, ropes and other accessories. In addition, the company provides engineered underground conductor pulling and removal equipment for electric utilities and for the telecommunications and fiber-optic industries.
TSE undertook a research and development project to develop a low-emissions puller that would match the performance of existing hydraulic-drive 4,000-pound puller equipment. The challenge was to minimize noise and engine emissions; the new puller required a battery power source that could generate the required pulling strength and also drive a matching electric brake. To be practical, the system also had to be efficient enough to sustain normal operating cycles in the field.
The first trial of the Model DPT 40E unit was in a distribution project, pulling in all three phases of 5,000 feet of 477 conductor with tower spans of 200 feet. Only 3 percent of the available battery power was used in completing the pull. Observers noted that because the system was quiet, it significantly improved communication between operators, while the elimination of hydraulic drives greatly reduced the risk of soil contamination.
For overhead jobs, the Model DPT 40E all-electric puller tensioner is used to install overhead distribution conductors in conjunction with the Polemaster pilot rope system. The regenerative system is self-charging and extends capability for days without the need to plug in. For installing underground cables, the DPT 40E uses an optional pulling reel and levelwind.
Cited by the company to be the only all-electric puller tensioner, the Model DPT 40E offers a range of features:
• Reel shaft freewheeling disconnect for payout of the pulling rope without operating the machine;
• Spring applied, electric released brake mounted directly in the drive train applies automatically in the event of power loss;
• 14,000 pounds tandem axle set with spring suspension for optimum trailer stability;
• Heavy-duty checker plate fenders with mud flaps;
• Extra large reel capacity with ability to handle reels up to 72 inches in diameter, 56 inches wide, and 6,000 pounds in weight;
• Double drive arm and locking collar with lifting loops on a 2 5/8 inch diameter shaft;
• Permanently engraved operator's panel with user friendly controls;
• Infinitely variable speed, pull and tension controls; and
• Electronic, graphical color display shows line speed, line pull, amps in/out, pull in payout, line distance, actual line pulls, state of charge and added slack feature.
Model DPT 40E's centrally located operator's console provides a protective screen for clear visibility of the complete pulling operation. The operator is at the same potential as the machine, reducing the possible risk of electrical hazards.
Additional advantages are:
• Less maintenance/run cost for the electric unit because of the absence of diesel fuel, motor oil, hydraulic oil and filters;
• Significant noise level reduction for improved communication and reduced customer disturbance;
• Environmentally friendly for sensitive area operation;
• No engine noise or fumes, resulting in less operator fatigue;
• Ergonomic and operator friendly controls;
• Easy to read, daylight operable, digital panel;
• No calibration needed; and
• Plug and forget charging system, no monitoring needed.
The DPT-Series also offers optional equipment:
• High-speed Polemaster pilot rope drive with infinite line pull and speed control from 0-550 FPM;
• High-speed Polemaster levelwind system controlled from the operator's console;
• Hydraulic combination overhead/underground levelwind system with guide rollers and sheaves;
• Rear stabilizer jacks with manual crank adjustment and quick release inner drop-leg;
• Model BR6030 Breakaway pulling reel for reconductoring; and
• Protective cover for reel.
TSE International provides custom engineered equipment to meet overhead and underground tension stringing requirements. The company designs and manufactures a complete range of engineered pulling and tensioning equipment and accessories. For additional information, please visit www.tse-international.com.
For more information about TSE International or other products, click here to go to Utility Products' Buyers Guide.