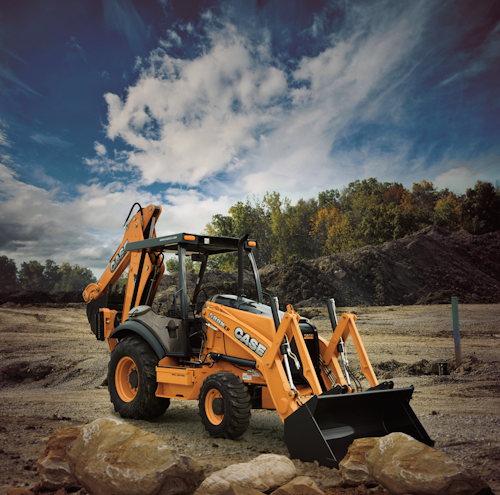 Construction projects: CASE Construction Equipment introduces its line of Tier 4 Final backhoe loaders, including the new 580N EP – a lower-horsepower version of the company's popular 580N backhoe that maintains the same backhoe lift capacity and breakout force with greater fuel efficiency and a maintenance-free Tier 4 Final solution. All CASE N Series backhoes come standard with SiteWatch telematics, and can be outfitted with a variety of industry-exclusive standards/options such as Power Lift, Ride Control, Comfort Steer, ProControl, Easy Flex side lights and a mechanical universal backhoe bucket coupler that allows contractors to use attachments from competitive machines on their CASE backhoe. Each machine is also available in the proven CASE Extendahoe® configuration for extended digging and reach capabilities.
All CASE N Series backhoes feature the company's exclusive over-center design, which transfers weight to the front of the machine for smooth roading and better traction, and allows the operator to dig closer to the machine. N Series controls are simple, with adjustable pilot control towers, a control pattern selector and adjustable wrist rests. Each N Series machine also comes standard with Adjustable SmartClutch, which lets operators customize the feel of forward-to-reverse transitions (smooth, moderate or aggressive) to their preference. All CASE N Series backhoes feature the SmartFit™ bucket tooth system, which features heavy-duty self-sharpening teeth and a hammerless fastener system for easy installation.
The New CASE 580N EP
The New CASE 580N EP is ideal for contractors just getting started and the rental market, with lower owning and operating costs and a maintenance-free Tier 4 Final solution. The 580N EP features CASE's particulate matter catalyst – a combination of a diesel oxidation catalyst (DOC) and a high-efficiency flow-through filter that requires no fluids and no diesel particulate filter (DPF) maintenance/upkeep. At 74 horsepower – and with a backhoe bucket breakout force of 11,517 pounds, backhoe lift capacity of 2,858 pounds, and peak torque of 233 foot-pounds – the 580N EP provides ample power and performance while still keeping fuel, maintenance, and owning and operating costs low. While the new model is designed to optimize efficiency and power for price-conscious buyers, it can be outfitted with a full selection of options for greater machine and attachment flexibility.
For more information about CASE Construction Equipment or other products, click here to go to Utility Products' Buyers Guide.