Activists protest proposed utility fee in Utah
To date, customers pay a monthly $5 fee that is set to climb to $6 in September
Jul 28th, 2014
SALT LAKE CITY (AP) — Renewable energy advocates are rallying against a proposed utility fee for Utah residents who have solar panels and wind turbines, saying it could hinder further development of renewable energy.
The group gathered Wednesday to urge officials to vote down a potential surcharge for the Rocky Mountain Power customers. The fee would raise their monthly bill by $4.65, or about $56 a year. Rocky Mountain Power officers say the hike is needed to help cover costs for those customers on days when the sun isn't out and the wind isn't blowing.
Activist groups gathered at synagogue Congregation Kol Ami on Wednesday to urge the Utah Public Service Commission to forgo the surcharge.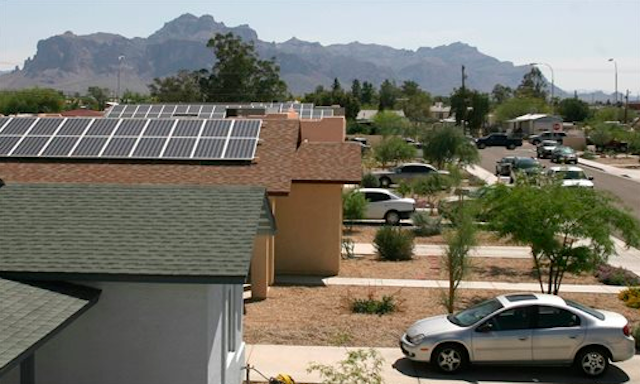 To date, customers pay a monthly $5 fee that is set to climb to $6 in September. Customers with solar panels or wind turbines still use utility's grid, but they do not pay a monthly $25 fixed cost that traditional customers do.
This puts a greater burden on traditional customers who pay for infrastructure maintenance and grid operation, Rocky Mountain Power spokesman Paul Murphy told the Deseret News.
But advocacy groups such as UCare and HEAL Utah, as well as religious and business organizations, said Wednesday they feared such a fee would impede development of alternative energy. Others agreed.
"Utah homeowners want and need energy choice. A solar fee hinders that energy choice," said Damien Mora, an energy specialist with Garbett Homes, adding it would discourage Utah residents from investing in solar panels.
Under a new law passed during the legislative session, the board is obligated to fully examine the costs and benefits of net metering policy, said state Rep. Patrice Arent, D-Millcreek.
"They have to consider the benefits, and there are so many benefits to having solar as one of our great sources of energy," she said. "We need to think about that in terms of how we're going to encourage people to do that."
Talk of the potential tariff is causing new users of solar energy to worry about higher costs down the road, said Mike Walton, who installs solar panels in Utah as a project developer for Creative Energies.
"It's not going to completely deter people from doing it," he said. "But it does raise concerns."
Solar systems have become more affordable for customers, with an average cost of $3.50 per watt — almost half of what system costs were four years ago, Walton said. Homeowners with solar systems typically see a return on investment of their total cost in less than seven years, he said. Some cut their energy consumption by 50 to 90 percent, he said, lowering their bill to as little as $9 a month.
As alternative energy systems become more common, the need for customers with renewable energy to help pay for the grid grows, Murphy said.
"If they're going to invest $20,000 or $30,000 in a system, we think $4.65 is a bargain for them to still have access to the grid for when the sun doesn't shine or when the wind doesn't blow," Murphy said.
The commission will discuss the proposal with members of the public at 5 p.m. Tuesday, July 29, in room 403 of the Heber M. Wells Building, 160 E. 300 South in Salt Lake City. Public comment will also be accepted until July 29 by emailing psc@utah.gov.
If approved, the surcharge would take effect Sept. 1.