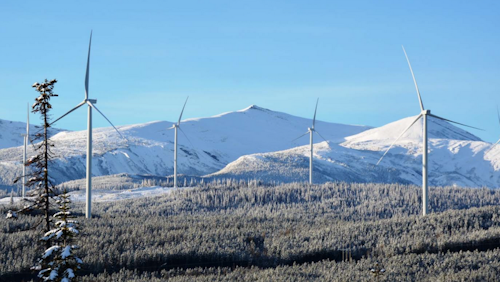 Pattern Energy Group completed the acquisition of a 51 percent interest in the 179 MW Meikle Wind facility from Pattern Energy Group LP for $68 million, which represents a 10x multiple of the five-year average cash available for distribution.
The Public Sector Pension Investment Board acquired the remaining 49 percent.
"Completing the acquisition of Meikle Wind adds British Columbia's largest wind power facility to our portfolio and is one of the first initiatives in our new strategic relationship with PSP Investments," said Mike Garland, CEO of Pattern Energy. "Meikle is an excellent addition to our portfolio, providing a strong addition to our CAFD2 with a long-term revenue stream from its 25-year PPA. PSP Investments' acquisition of the remaining 49 percent stake in Meikle demonstrates their confidence in our business model and investment decisions."
The purchase price of the Meikle Wind acquisition was funded from available cash and draws under the company's revolving credit facility.
Meikle Wind commenced commercial operations in the first quarter of 2017 and operates under a 25-year power purchase agreement with BC Hydro, which has a AAA/Aaa credit rating.
Located in the Peace River Regional District of British Columbia, Canada, the 179 MW Meikle Wind facility consists of 61 GE wind turbines, including 35 3.2 MW turbines and 26 2.75 MW turbines.