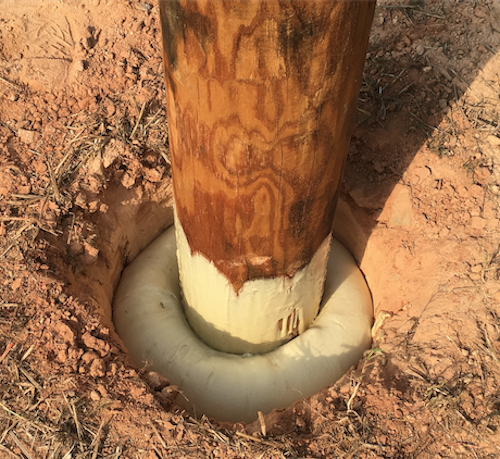 Line construction: Osmose Utilities Services introduces OsmoSet pole setting foam, a high-density polyurethane water-blown foam designed for setting and straightening distribution and transmission poles.

Most soils in the U.S. have a compressive strength of approximately 28 PSI. OsmoSet foam has a density of four pounds per cubic foot and a compressive strength of 70-80 PSI, providing a safety factor of nearly 3:1 over the surrounding natural soil. It's useful in a number of settings, but especially for poles set in sandy or sandy loam soils with low compressive strength, poles set in rocky soil, dynamited or drilled pole sets that may not produce sufficient backfill material, and difficult-to-access pole sets where transporting fill dirt is not feasible.

OsmoSet's goal was to create a pole setting foam that provided added strength and safety, reduced costs, reduced environmental impact, and improved labor efficiencies for infrastructure owners. OsmoSet expands at a ratio of 18:1, 20 percent more than other foams—which means less product is required to fill the space. Because OsmoSet completely encapsulates the pole, it greatly reduces leaching of the pole's original treatment into the soil, and the product contains no chlorofluorocarbons or hydrofluorocarbons, making it safe for both the applicator and the surrounding environment.
For more information about Osmose Utilities Services or other products, click here to go to Utility Products' Buyers Guide.