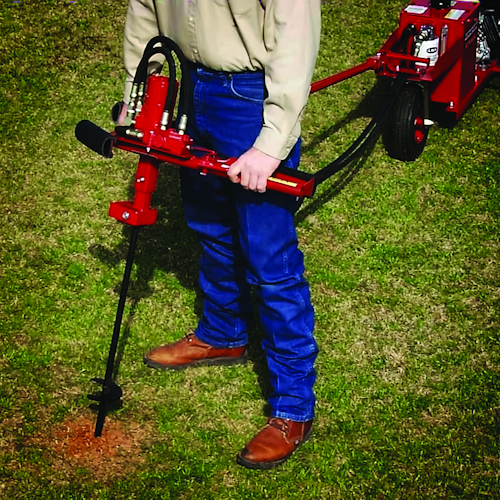 Construction equipment: Little Beaver's anchoring equipment allows installers to quickly secureutility towersto solid ground, which prevents towers from shifting or moving off footings during a storm or strong winds. The equipment package includes an 11-horsepower hydraulic drill, a high-torque handle and an anchoring adapter and it can install each anchor in about a minute.
The drill's compact body and portable hydraulic power pack make it easy to anchor in remote locations and cramped worksites. For instance, an all-terrain vehicle can transport the hydraulic drill and attachments. Other drills require using a carrier, such as a backhoe or skidsteer, to hold and power the drill, making it difficult to maneuver the carrier through narrow worksites. Rather than transporting a bulky air compressor or generator, Little Beaver's unit is powered by a hydraulic power pack on a three-wheeled steel carriage. A Honda gas engine or Kohler diesel engine powers the pack's hydraulic pump, providing the drill, or any other hydraulic hand tool, with a 6-gallon-per-minute hydraulic flow rate. Since the power pack is self-contained, there's minimal risk of fuel and hydraulic oil leaks.

The drill maximizes productivity with its easy-to-use controls; simply move the positioning lever between forward, neutral or reverse. The reverse position makes removing anchors as easy as installing them.
"It's rare to find a drill that features a reverse drive, making anchor removal cumbersome and time consuming," said Mike Hale, Little Beaver sales and marketing manager. "With a Little Beaver drill, anchor removal is a cinch so projects get completed quickly and safely."
Little Beaver's high-torque handle allows operators to drill a 6-foot-long anchor flush to the ground quickly. The handle generates 700 pound-feet of torque at 45 rpm, making it ideal for anchoring in most soils. It gives the operator complete control of the unit while drilling at the 10-15 degree angle typically required for optimal anchoring. Additionally, Little Beaver's exclusive torque-tube design eliminates kickback, making anchoring safe for installers.
Little Beaver also has anchoring accessories for specialty applications, such as securing mobile homes, installing flexible tubes for flood protection and pinning down tents for special events.
About Little Beaver Inc.
Little Beaver has been proudly manufacturing quality, safe and productive drilling equipment for three generations. With a full line of easy-to-operate equipment, along with a complete offering of accessories, including augers, extensions, points and blades, Little Beaver effectively serves the needs of end-users from professional contractors to rental centers.
For more information about Little Beaver or other products, click here to go to Utility Products' Buyers Guide.