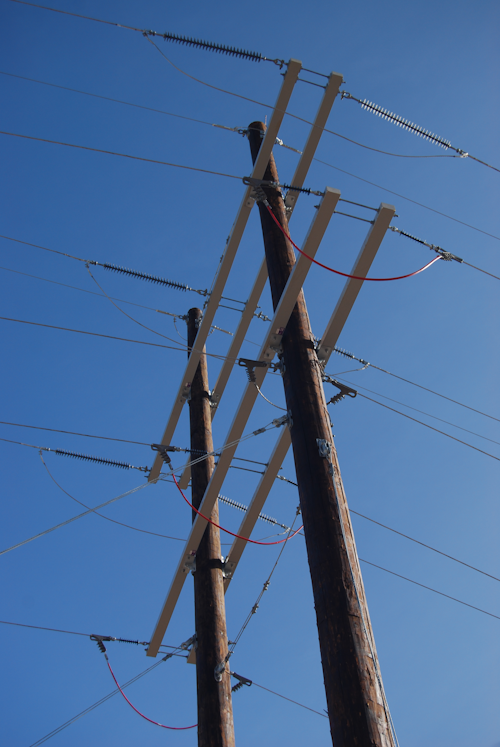 Utility poles: GEOTEK announces that the company and the PUPI® brand are celebrating 25 years of service to the electric utility industry. PUPI® fiberglass crossarms are engineered for superior load capacity, stiffness and resistance to ultraviolet radiation and weathering. They are used by leading utilities to support power lineswith reliability and long-term return on investment.
GEOTEK was founded in 1990 to manufacture and market pultruded fiberglass fencing products, but soon expanded into a variety of additional pultruded products. These products included tension bars for chain link fences, retaining wall pins and nursery stakes.
The PUPI® brand of fiberglass crossarms was introduced the same year, although at that time it was owned by Pultruded Utility Products Incorporated. PUPI® fiberglass crossarms were developed to address the damage caused to wood crossarms by environmental degradation, woodpeckers and insects. The first order of 900 PUPI® crossarms was placed by Pennsylvania Power & Light.
In 1994, GEOTEK began manufacturing PUPI® fiberglass crossarms and purchased Pultruded Utility Products Incorporated in 2000. PUPI® products have continued to be refined with the latest innovations in composite technology resulting in improved strength, stiffness, and resistance to ultraviolet radiation and weathering. Today's PUPI® product designs are the result of extensive testing with state-of-the-art equipment and processes.
For 25 years, PUPI® has been the leading brand of fiberglass crossarms in North America and, more recently, a significant international supplier. The PUPI brand stands for durability, longevity and customer service – which are qualities valued by hundreds of electric utilities around the world.
GEOTEK is owned by Granite Equity Partners, a Minnesota-based private equity firm committed to providing the resources to continue PUPI's leadership and growth.
For more information about GEOTEK or other products, click here to go to Utility Products' Buyers Guide.