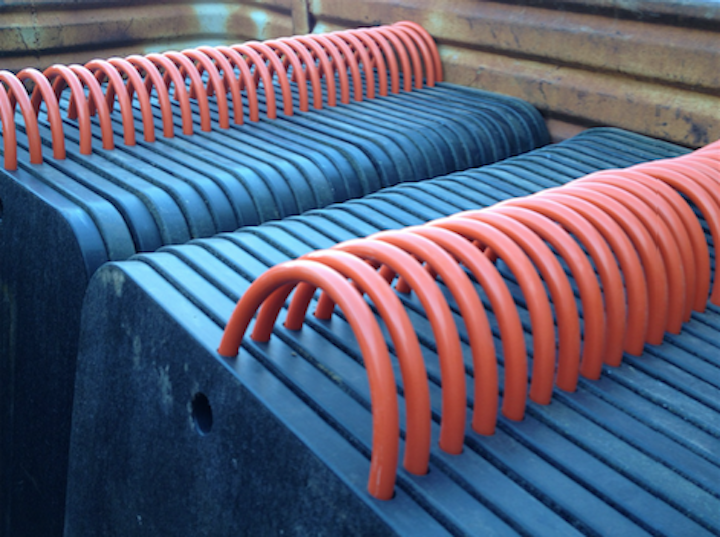 Construction equipment: For the eighth year in a row, DICA, manufacturer of U.S. and Canadian patented SafetyTech® Outrigger Pads, is the official outrigger pad sponsor for the 33rd International Lineman's Rodeo. Hosted by Kansas City Power & Light and Westar Energy, the competition attracts the best line workers from around the world, who compete in events based on traditional utility lineman tasks and skills.
The event, to be held Saturday, Oct. 15, 2016, includes team and apprentice events held at the Safety & Training Conference and Expo at the National Agriculture Hall of Fame in Bonner Springs, Kan. About 200 teams and 250 apprentices will compete.
In 2009, DICA provided 100 SafetyTech outrigger pads for the bucket trucks and digger derrick equipment used in the competitions. In 2014, those pads were upgraded with DICA's unbreakable and ergonomic TuffGrip handles. Martin Putnam, Field Construction Supervisor for the International Lineman's Rodeo, has been impressed by the pads since they first arrived in 2009. "The quality of the DICA outrigger pads has been so good, they're darn near worth stealing," he said with a smile.
This year, DICA's D2424 outrigger pads will be used under 12 total bucket trucks used in the competition. In addition to Hurtman Rescue and Pole Climbing events, two additional mystery tasks are presented to both teams and apprentices.
"DICA got its start in 1988 at the request of a utility fleet manager, who was seeking a better pad than the wood outrigger pads available at that time. We owe much of our success to the support of the utility industry and are proud to be a sponsor of a world-class event that celebrates the safety and technical skills necessary to perform utility maintenance," said Dick Koberg, founder, and president of DICA.
On October 12 and 13, more than 3,000 attendees can also visit DICA during the Expo in booth 224 held at the Overland Park Convention Center in Overland Park, Kan. DICA will display the following product lines:
• SafetyTech® outrigger pads
• FiberMax® crane pads
• AlturnaMATS® ground protection mats
• Checkers® Wheel chocks
For more information about DICA or other products, click here to go to Utility Products' Buyers Guide.