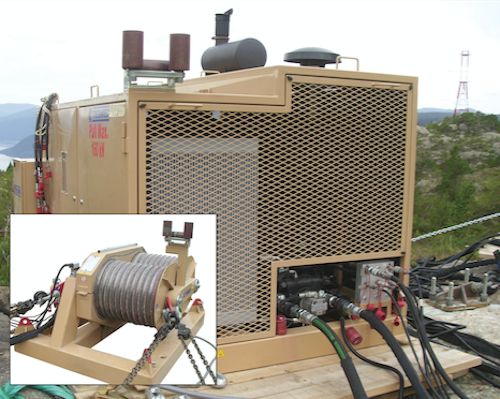 Construction equipment: Condux Tesmec's ARS711 hydraulic puller is for a wide range of pulling applications including power transmission and distribution cable installation. The ARS711 features a 286 hp, Volvo Penta Tier 4 Diesel Engine, compliant with US EPA Tier 4 Final emissions legislation.
The unit also offers a hydraulic motor with dual displacement positions for two pull settings: high pull mode and high speed mode. In high pull mode, the unit offers a maximum pulling force of 40,000 lbs. at a pulling speed of 1.5 mph, and 20,000 lbs. of pull force at a maximum speed of 2.9 mph. In high speed mode, the ARS711 offers a maximum pulling force of 27,000 lbs. at a pulling speed of 2.0 mph, and 13,500 lbs. of pull force at a maximum speed of 4.0 mph.
The ARS711 is available as a modular unit, allowing greater flexibility for job site transport and set up, while providing the ability for end-user mounting on an existing chassis.
A newly updated HMI control provides access to industry-leading features like a negative self-acting hydraulic brake, an integrated hydraulic dynamometer, a hydraulic cooling system and more. A standard electronic pull and speed monitor and recorder kit is integrated into the control panel, providing users real time data on pulling operations. Bull-wheel grooves on the ARS711 are made from heat-treated steel.
The Condux Tesmec line of hydraulic pullers, tensioners, puller-tensioners and stringing blocks represents the safest and most reliable equipment in the power transmission and distribution industry.
For more information about Condux Tesmec or other products, click here to go to Utility Products' Buyers Guide.