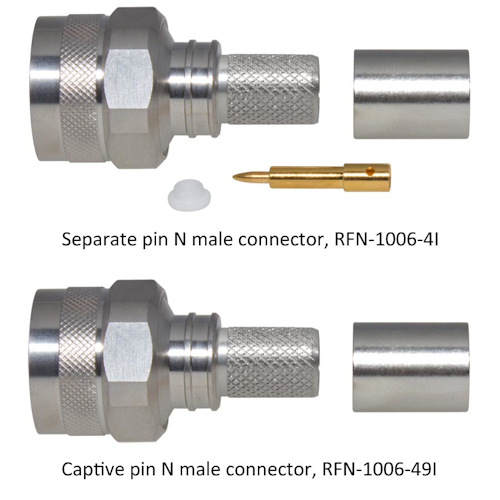 Transmission and distribution: Proper installation of RF connectors onto coax cable is critical in wireless system performance. Two new N male connectors simplify the installation process by eliminating the need to trim the braid during cable preparation. The RFN-1006-49I features a solderless captive pin and the RFN-1006-4I features a crimp pin.
Both connectors are compatible for high performance cables such as Times Microwave LMR®-400, CommScope CNT®-400, Belden 9913, and RF Industries RFI-CU400. Combination hex/knurl coupling nuts allow for tightening by hand or wrench. White Bronze (tri-metal) plating eliminates tarnishing while providing improved electrical performance and reduced PIM (Passive Intermodulation). Exceptional VSWR of less than 1.10 to 1 up to 3Ghz and less than 1.20 to 1 up to 8Ghz is achieved through an enhanced impedance matching design. Industry standard tooling can be used for cable preparation and crimp termination. Heat shrink and assembly instructions are included with each connector. VSWR charts are available.
RF Connectors is a division of RF Industries (NASDAQ RFIL), a leading supplier of connecting solutions provided through its operating divisions: RF Connectors, RF Cable Assembly, Aviel Electronics, RadioMobile, OddCables.com and Cables Unlimited.
For more information about RF Industries or other products, click here to go to Utility Products' Buyers Guide.