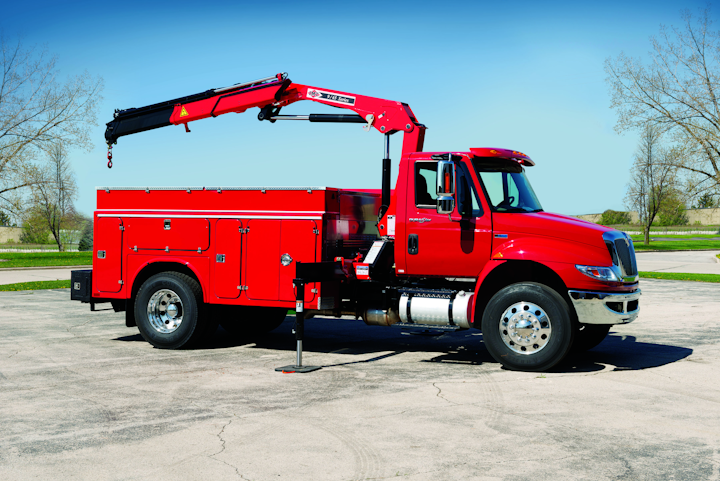 Construction lift: Iowa Mold Tooling Co. Inc. (IMT) will introduce new and improved mid-range articulating cranes at the International Construction and Utility Equipment Exposition (ICUEE), Oct. 1 – 3, 2013, in Louisville, Ky. IMT will exhibit in booth N1022 at the show. The 9 tm, 10 tm, 11 tm and 12 tm models have been enhanced with new options, features and ratings to meet unique application needs. With superior lift and reach capabilities and reduced weight, the new cranes offer customers increased productivity and payload capacity.
The 9/65, 10/72, 11/78 and 12/86 cranes have ratings ranging from 65,100 foot-pounds (9 tm) to 86,075 foot-pounds (11.9 tm) and maximum lift capacities from 8,380 pounds (3,800 kilograms) to 10,230 pounds (4,640 kilograms). New features include SL (single link) or DL (dual link) options, 15-degree overbending and weight reduced by 10 to 15 percent from previous models. Each crane can be fitted with up to five hydraulic extensions to provide application-specific reach. Additional features include the RCL (rated capacity limiter) 5300 safety system and a radio remote control.
For more information about IMT or other products, click here to go to Utility Products' Buyers Guide.