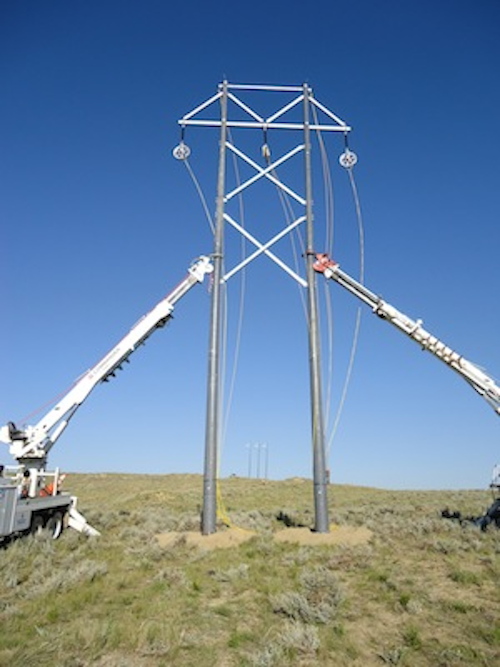 Stewartville, MN—Power distribution: GEOTEK, the producer of PUPI® fiberglass utility products, introduces a full line of fiberglass H-frame cross arms and braces, adding to the company's extensive line of PUPI brand electrical distribution and transmission products.

PUPI fiberglass H-frame cross arms and braces are now available in standard system lengths of 22', 26' and 32' in both tangent and deadend configurations. Custom transmission arms in virtually any length are also available and GEOTEK engineers are ready to design transmission systems based on customer specifications. PUPI H-frame cross arms and braces can be used with all pole materials, including wood.

"Our electrical utility customers keep asking us for longer and stronger structures as they experience the benefits of using our fiberglass products," said Dean Casad, Vice President of Product and Marketing for GEOTEK. "The launch of our PUPI H-frame products gives our customers the most complete line of fiberglass H-frame systems available at this time."

PUPI fiberglass cross arms and braces are ideally suited to transmission structures. They are lighter than wood, so they are easier to handle and install. They are constructed of engineered materials, so their strength is consistent – and stays that way over time. Fiberglass resists insects and woodpeckers, and will never rot. Unlike steel, fiberglass is an excellent insulator, it never rusts and never needs re-coating. PUPI cross arms and braces are truly maintenance free, with a service life designed to meet or exceed any pole material.

PUPI's new H-frame systems feature patent pending EZE-Fit adjustable brace end fittings. EZE-Fit end fittings adjust to any angle and allow up to 10 inches of length adjustability to facilitate re-fitting to existing poles. Exclusive SunGUARD® UV resistant coating is thermally bonded to the surface, forming a protective layer that stays smooth and protects the fiberglass from intense sunlight for 60+ years. Exclusive TorqueGUARD bushings reinforce holes for added strength and prevent any possibility of damage during hardware installation.

For more information about Pelican Products or other cross arms and braces, click here to go to Utility Products' Buyers Guide.