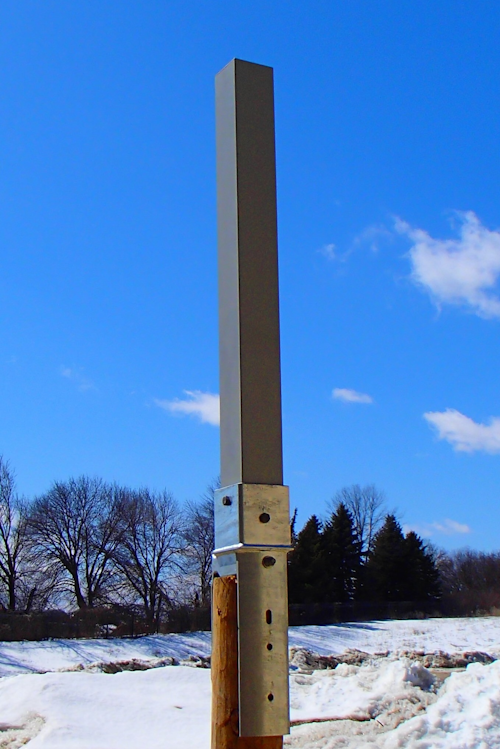 STEWARTVILLE, MN – Electric poles: GEOTEK, the producer of PUPI® fiberglass utility products, introduces a new fiberglass pole top extension, adding to the company's line of PUPI fiberglass electrical distribution and transmission products.
PUPI pole extensions are attached to the top of utility poles to add 36 to 72 inches of additional height. They are constructed of lightweight, yet extremely strong 5" X 5" fiberglass beams bolted to a galvanized steel mounting bracket. The mounting bracket can be attached to the top of nearly any pole with a diameter range of 6 to 10 inches. Available in either gray or brown color, PUPI pole extensions are completely sealed with a rigid closed cell foam that permits field drilling and excludes moisture.
PUPI fiberglass pole extensions are easy to handle and install. They are constructed of engineered materials, so their strength is consistent -- and it stays that way over time. Fiberglass resists insects and woodpeckers, and will never rot. Unlike steel, fiberglass is an excellent insulator, it never rusts or needs re-coating. PUPI pole top extensions are truly maintenance free, with a service life designed to match or exceed any pole material

"PUPI pole extensions are a very cost-effective way to increase clearance, add conductors or repair pole tops without the expense of replacing the entire pole," said Dean Casad, Vice President of Product and Marketing for GEOTEK. "They are extremely versatile and can be used to support virtually any type of pole line hardware."
PUPI pole extensions feature exclusive SunGUARD® UV resistant coating which is thermally bonded to the surface, forming a protective layer that stays smooth and is projected to protect the fiberglass from intense sunlight for 60+ years. Exclusive TorqueGUARD™ bushings reinforce holes for added strength and prevent any possibility of damage during hardware installation.
For more information about GEOTEK or other products, click here to go to Utility Products' Buyers Guide.