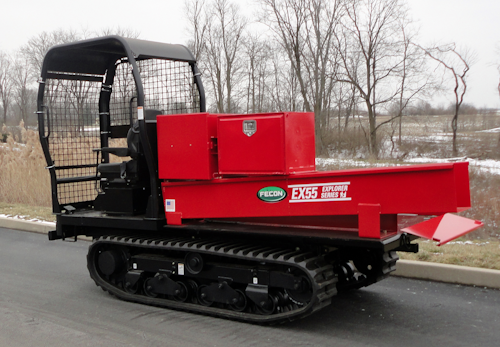 Line construction: Fecon introduces the EX55 Support Crawler, a rubber track compact crawler designed as a support unit to the EX300S Drill Rig. The EX55 is built with the same quality components and maneuverability as the EX300S and is equipped with a drill rod holder, steel/plywood lined locking boxes and fold down bed rails all mounted on a robust 1/2" steel platform.
The EX55 carries all the necessary drilling essentials, thus eliminating the need for heavy support equipment to haul supplies into drill sites. It has the capability to haul supplies and sensitive materials needed in seismic drilling work and outfitted especially for that application. Size and ground speed are matched to the drills and make an efficient Seismic Drilling operation. The EX300S and EX55 is a matched pair providing unmatched ease of operation, maneuverability and minimal disturbance to drill sites. The EX55's base carrier can also be used as a universal platform for many configurations including a dump body, flatbed, spraying equipment or firefighting carrier.
Fecon, Inc. was established in 1992 near Cincinnati, Ohio and originally produced horizontal grinders and other wood processing equipment. Fecon's Bull Hog is currently the #1 selling forestry mulcher. Fecon also provides track carriers and other equipment for vegetation management, geothermal, seismic, and wood to energy biomass industries.
For more information about Fecon or other products, click here to go to Utility Products' Buyers Guide.