Construction equipment: Minimum-swing radius excavators from CASE Construction
Construction equipment: Minimum-swing radius excavators from CASE Construction
Jul 15th, 2013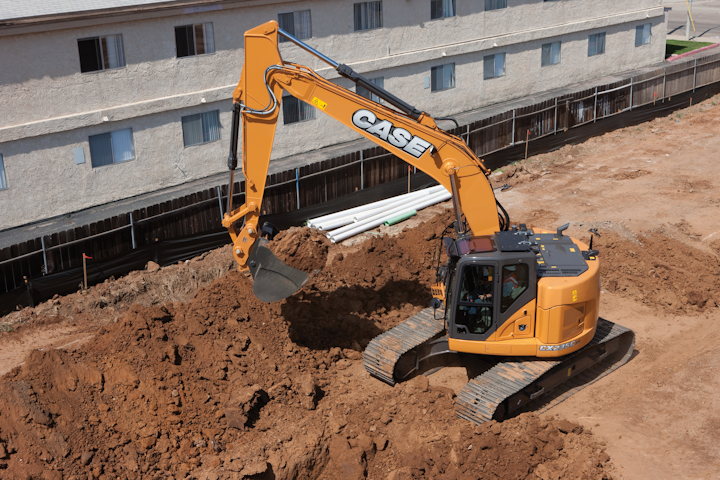 RACINE, WI—Utility line construction: CASE Construction Equipment offers the new CX145C SR and CX235C SR Minimum-Swing Radius (MSR) excavators, both of which use Tier 4 certified Cooled Exhaust Gas Recirculation (CEGR) technology to meet current environmental standards – and save on fuel consumption when compared to previous models. The CX145C SR and CX235C SR also combine maneuverability and power to ensure productivity in restricted conditions – and incorporate a host of new features to improve overall performance, boost operator comfort and provide ease of maintenance.
Compared with previous B Series models, the CX145C SR and the CX235C SR deliver fuel savings of up to 9.2 percent and 17.5 percent, respectively. The new excavators' diesel engines each achieve 100/160 net hp (75/119.3 kW) using Tier 4 Interim CEGR technology to burn cleaner, reduce fuel consumption and deliver superior horsepower. Each excavator boasts a 3,659/2,677 lb (1,659.7/ 1,214.3 kg) increase in operating weight.
"Our latest excavators are ideal for projects where the work envelope is limited and the combination of maneuverability and power is essential to getting the job done as effectively and efficiently as possible," said Rob Marringa, brand marketing manager for CASE Construction Equipment. "We engineered these models to meet the current Tier 4 emissions mandate while giving contractors easy-to-maintain machines that not only boost productivity but also deliver lower owning and operating costs.

The CX145C SR and CX235C SR excavators are engineered with a compact counterweight and boom placement that minimizes the machines' work envelope. The excavators are well suited for restricted conditions, such as those encountered with road and bridge work, residential projects and urban construction. They are also an excellent choice for wide-open job sites.
Improved productivity, overall performance
The CX145C SR and CX235C SR excavators incorporate a number of enhancements when compared with the previous models to boost productivity and improve overall performance, including:
• CASE Intelligent Hydraulic System: The unique system combines with CEGR Tier 4 Interim technology for increased fuel savings. It also helps manage the engine and hydraulics to boost performance, including the ability to load trucks faster. The CX145C SR cycles 4-percent faster and delivers a 9-percent increase in lift capacity versus the previous model. The CX235C SR excavator cycles 7-percent faster than its predecessor and touts a 15-percent increase in lift capacity. Five energy-saving features manage engine RPMs, as well as hydraulics, to lower operating costs and improve productivity.
• Automatic Power Boost: Delivers added power for extremely heavy breakout and lifting requirements.
• Three power modes: With the SP (speed priority), H (heavy duty) and A (automatic) modes, operators can choose the best mix of power and fuel efficiency. Throttle settings also adjust hydraulics for further tailoring to specific tasks.
Increased operator comfort and safety
Enhancements that improve operator comfort and safety on the CX145C SR and CX235C SR excavators include:
• More cab comfort: Compared to previous models, each excavator provides 6-percent more space and 28-percent more airflow inside the cab. Air conditioning performance within the cab has increased by 20 percent. All controls are ergonomically designed.
• Better visibility: The low profile common to all C Series excavators results in 32-percent more visibility, in addition to a new roof skylight.
• High definition camera and non-glare monitor: The review camera feeds a 7-inch LED, non-glare monitor in the cab. Operators can easily switch the large, clear monitor between rear and optional side camera views. It also provides simultaneous visibility to key operating data. Tool changes are quick and easy with an in-cab auxiliary hydraulic setting system that includes an option for 10 memory-recall settings.
• Noise reduction: The cab's reinforced tubular structures help create an extra-quiet cab environment with automotive-like noise levels as low as 69.9 dBa.
• Deluxe air-ride seat: Includes adjustable armrests and five primary adjustments to customize the comfort.
• Level 1 ROPS/FOPS (rollover/falling-object protection systems) cab structure: Specifically engineered to enhance operator safety.
Ease of maintenance and greater versatility
The CX145C SR and CX235C SR excavators achieve a 14.8- and 12-percent improvement score, respectively, over previous models on the SAE maintainability index. The new models provide:
• Extended service intervals: Oil change intervals are 500 hours via a high-performance filtration circuit. Hydraulic oil change intervals are 5,000 hours, while Easy Maintenance System bushings result in greasing intervals of 1,000 hours.
• Improved serviceability: The air filter and fuse box are readily accessible inside the cab. Ground-level access points, wide service panels, and grouped lubrication points speed routine maintenance.
A full range of attachments, along with five auxiliary hydraulic options for powering them, lets users tailor the machine to the job for added versatility and optimum productivity. As with all C Series excavators, the CX145C SR and CX235C SR feature a number of CASE Smart Digging Systems components, including:
• CASE Multi-Fit Coupler: Provides complete hydraulic latching – and allows operators to quickly attach and detach buckets and other components without leaving the cab.
• Productive and diverse bucket selection: CASE coupler buckets feature integrated bucket pins to prevent any loss of breakout force that might otherwise occur when using a coupler device. Pin-on buckets are designed for heavy-duty, high-capacity applications, such as digging in dense soil, clay, loose rock and gravel.
• SmartFit™ bucket tooth system: Provides stronger, more durable teeth and adapters, as well as hammerless, reusable locking pins. The SmartFit lineup includes general purpose, rock chisel, heavy penetrator, tiger, twin tiger and flare teeth.
For more information about Case Construction or other products, click here to go to Utility Products' Buyers Guide.