Tier 4i-compliant air compressor offers increase in fuel economy
Utility equipment: Doosan Portable Power expands Tier 4i air compressor lineup with XHP1170WCU, offers a six percent increase in fuel economy over the Tier 3 high pressure model.
Jul 24th, 2013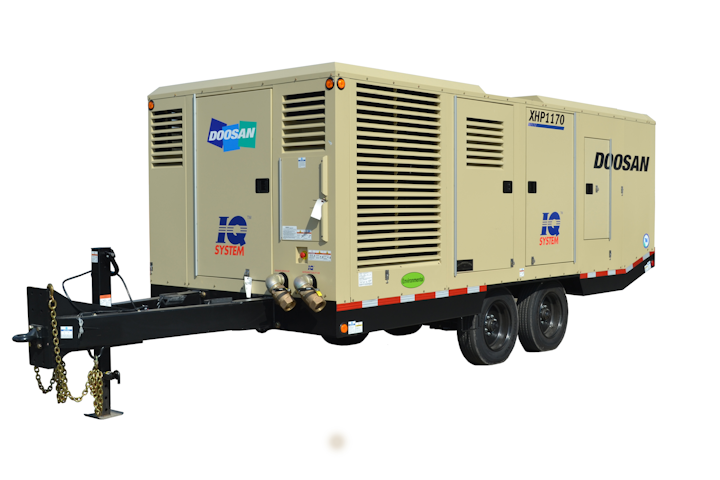 STATESVILLE, N.C. – Air compressors: Doosan Portable Power has expanded its Tier 4-interim air compressor lineup with the introduction of the XHP1170WCU. The Tier 4i-compliant air compressor offers a six percent increase in fuel economy over the Tier 3 high pressure model, on the same compact footprint, while delivering the reliable power required in drilling operations.
A new cooler design maximizes productivity in demanding jobsite conditions, providing easy maintenance while conserving fuel efficiency and power. The heat exchangers on the XHP1170WCU are designed in a single row for easy cleaning and come with a standard fuel cooler, which prevents fuel heating.
The unit comes standard with dual pressure regulation, offering operators the ability to select two pressure settings via the flick of a switch -- instantly expanding application compatibility and machine uptime. The XHP1170WCU is capable of delivering 250 or 365 psi.
"Our main priority -- especially in the design of our high pressure units required to operate in harsh conditions -- is to provide operators with a machine that they can turn on, and quite simply, walk away from," said Ted Flatt, director of national accounts, Doosan Portable Power. "Customers working in drilling operations need an air compressor that provides reliable power, excels in the tough onsite environment, and provides intuitive operation and easy maintenance. All of those needs are not just met, but exceeded, with a new enclosure design and upgraded technologies available in the XHP1170WCU."
Signature to Doosan Portable Power air compressors is a 110 percent environmental containment basin, which captures and prevents spillage of fuel and oil. An innovative duct design deters rain ingression, as water is forced to travel up and away from machine components, resulting in near-zero rain ingression.
Operation is made easy with the Doosan ViewPort control panel, which provides more detail and preloaded resources than any other control panel in the market. An intuitive joystick control provides access to 15 operational parameters, and easy access to relevant manuals, a machine maintenance schedule, and spare parts information. A Wi-Fi interface allows operators to access real-time data on laptops, tablets, or smartphones.
The air compressor includes a Tier 4i Cummins QSX15 580 hp engine delivering 1800 rpm, and two 99-gallon fuel tanks for a machine runtime of eight hours at 100 percent load. Doors on the sides and rear of the unit provide simple and safe access to all service components, from coolers to filters, and machine uptime is extended with 500-hour engine oil and 1,000-hour airend oil service intervals.
Operator safety is enhanced with a number of automatic shutdowns which engage in the presence of high discharge air temperature, low engine oil pressure, high engine coolant temperature and low fuel levels.
Built to hold up against the challenges of rugged onsite conditions, the air compressor includes a heavy-gauge galvannealed steel enclosure, heavy-duty tandem-axle running gear for easy towing, and construction-grade pedestal jack stand.
The XHP1170WCU includes a one-year, 2,000-hour package warranty; two-year, 3,000-hour engine warranty; and two-year, 4,000-hour airend warranty. A five-year, 10,000-hour airend warranty is offered with use of Doosan filters, fluids and parts.
Doosan Portable Power offers a full line of high pressure air compressors delivering a range of 750 - 1,500 cfm to meet any application requirement.
For more information about Doosan Portable Power or other products, click here to go to Utility Products' Buyers Guide.