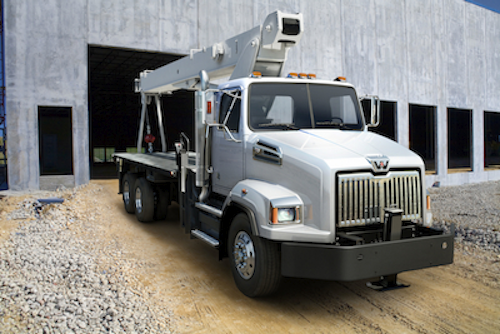 Indianapolis, March 28, 2011—Western Star Truck Sales Inc. has introduced its all-new Class 8 vocational truck—the Western Star 4700. The 4700, combined with the Western Star 4900 and 6900 truck models, provides customers with a full range of premium truck options to suit any need. The new truck was on display for the first time at the 2011 Work Truck Show.

Available in a set-forward and set-back configuration, the 4700 features a 110-inch BBC—the shortest BBC in its class—and is cited to be the ideal solution to meet the needs of the dump, mixer, crane, roll-off, sewer vac and plow segments.

"The Western Star 4700 broadens our product line-up to meet the growing needs of value-minded vocational customers who still demand the attributes found in a traditional Western Star truck," said Mike Jackson, general manager, Western Star. "Hand-built with unmatched attention to detail, the 4700 features the same durability, ruggedness and reliability our customers expect from Western Star."

The Western Star 4700 is ready to take on the most demanding of applications, and is available with the broadest range of powertrain options in a single truck model, including the Detroit Diesel DD13 engine and the Cummins ISC and ISL engines.

The DD13 features a six-cylinder, in-line configuration, 350 to 450 hp and 1,250 to 1,650 lb/ft of torque. Combined with Daimler's proven BlueTec Selective Catalytic Reduction emissions technology and Amplified Common Rail System (ACRS), the DD13 can save vocational customers up to five percent in fuel economy.