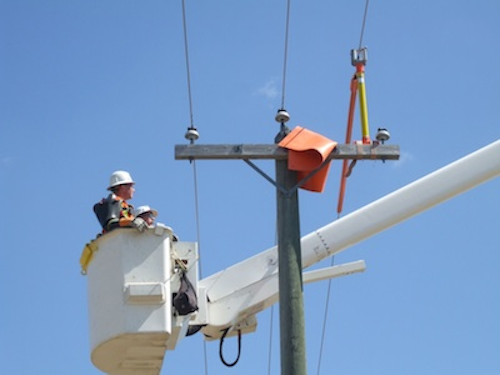 Waco, Texas—Diversified Products introduces its Temporary Conductor Support (TCS) for holding energized conductors above the crossarms when additional clearance is needed. The TCS is lightweight, yet durable, and attaches to most sizes of crossbars.

Field-tested and approved by transmission and distribution maintenance professionals, Diversified's TCS features a foam-filled fiberglass rod and aluminum wire holder. At 49.5 inches tall, the TCS consists of 32-inch clear span insulation. It has a vertical load capacity of 300 pounds and a horizontal load capacity of 150 pounds, while weighing only 23.5 pounds itself.

The TCS comes with a wire holder with a spring-loaded latch for easily securing lines, and it uses non-metallic rollers to protect conductors. The unit attaches to crossarms via dual ratchet straps with quick-release ends. It fits crossbar dimensions of 6 inches by 6 inches, 5-3/4 inches by 4-3/4 inches, 4-5/8 inches by 3-5/8 inches, and more.

Diversified Products designs, engineers and manufactures a full line of utility products, including line lifters, insulated work platforms, man baskets and pole pullers.


For more information on Diversified Products or other crossarm conductor supports, click here to go to Utility Products' Buyers Guide.