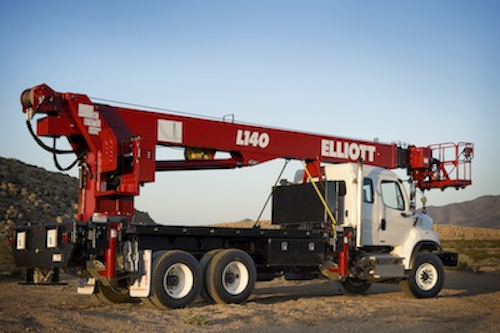 Chambersburg, Pa.—North American manufacturer of truck-mounted cranes and aerial work platforms (AWP), Elliott Equipment Co., has contracted Hirschmann Mobile Machine Control Solutions to install eight graphic consoles with integrated LMI controls (iVISOR mentor QVGA) on two different AWP models.

Designed for mobile cranes, the Hirschmann compact solution provides a graphical display of the crane, its load and geometry. Presenting the actual and allowable load, boom length, boom angle and load radius, the display also includes an integrated bar graph that informs the operator about the crane's utilization.

Seven systems have been installed on L140 HiReach platforms and one on an L115 HiReach. Hirschmann's iSENS HES-W1 wireless anti-two block (A2B) switch, which is designed for quick and easy installation without costly and time-consuming cabling, will also be installed. The L115 HiReach and the L140 HiReach have boom lengths between 102 and 125 feet and can lift up to 14,000 lbs. They can be used in a variety of industries, but mainly target signage and electrical goods companies and utilities. Aerial platforms and sign cranes have been Elliott's main market for several decades.