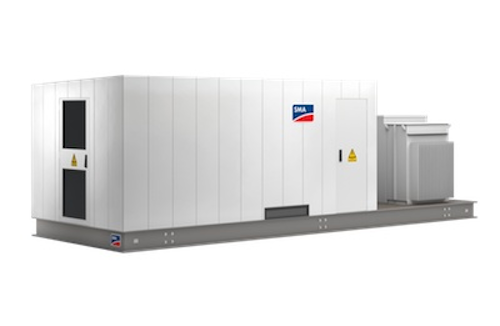 Rocklin, Calif. and Toronto—SMA America and SMA Canada are now securing orders for their medium-voltage turnkey power solutions, which include the SMA MV Power Platform—available as an open or shaded structure—and SMA MV Power Station. They join the Sunny Central High Efficiency (HE) and Compact Power (CP) lines of solar inverters in SMA's North American utility-scale lineup.

SMA's 1.0-1.6 megawatt medium-voltage turnkey power solutions include two Sunny Central inverters, a medium-voltage transformer, optional DC or AC/DC disconnect cabinets, and a control and supply panel for power distribution to local loads and (optionally) field tracker motors. They also feature easy integration with installer SCADA equipment; a modular, steel base with all component interconnection cabling; and a convenient plug-and-play installation scheme. Designed for Seismic Zone D applications, all configurations can be deployed in temperatures to -40C, making them very useful for the Canadian solar market and other cold regions. SMA offers a variety of service and warranty options, including a 99 percent uptime guarantee.

"By pre-engineering and assembling the MV Power Platform and MV Power Station, SMA offers EPCs and utility companies the most cost-effective way to modularly install large-scale PV power converters," said Jurgen Krehnke, president and general manager of SMA America and president of SMA Canada. "Packaging SMA's industry-leading technology into a factory-integrated solution reduces costs, optimizes performance and improves the speed of plant installation and commissioning."

Available grid management features include control of active and reactive power, automatic over-frequency response, power factor adjustment, power curtailment and low voltage ride through. SCADA connectivity via Modbus and the SMA OPC Server ensure optimum communication and control.

Designed with delivery in mind, the MV Power Platform and MV Power Station can be transported via a standard semi-truck and unloaded by crane. Each configuration then can be installed on a concrete slab, vault or piers for maximum flexibility.

SMA's MV Power Platform and MV Power Station are assembled in regional facilities throughout North America.