Construction equipment: Multi-purpose crawler for utility construction applications
Utility equipment: Terramac RT9 multi-purpose crawler carrier handles variety of construction industry applications. Versatile machine features heaviest carrying capacity for non-permitted loads.
Mar 19th, 2014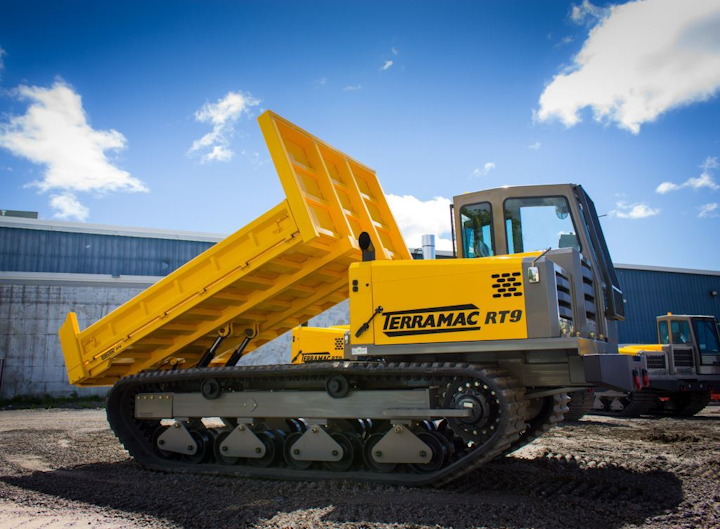 Construction projects: Introduced by Terramac® LLC, a manufacturer of rubber track crawler carriers, the Terramac RT9 multi-purpose crawler carrier is designed for customization and versatility to tackle a wide variety of utility, asphalt, aggregates, concrete, construction, earthmoving, lifting, and mining applications. The largest mid-sized rubber track carrier that does not require special oversize permitting to transport the machine, the Terramac RT9 was on display at the company's exhibit at CONEXPO-CON/AGG 2014 in Las Vegas.
Utility Applications
A digger derrick can be installed on the RT9 for digging holes and setting poles in remote, hard-to-reach locations. The RT9 can also be outfitted with a boom lift for lifting materials.

Manufactured in North America, the CE-certified Terramac RT9 carrier can be customized with an array of equipment, such as bark blowers, cranes, drills, flatbeds, generators and tanks. With an operating weight of 26,000 pounds and a maximum carrying capacity of 18,000 pounds, the RT9 crawler carrier eliminates the need for additional equipment and minimizes environmental impact and restoration costs associated with jobsite ground damage.

When fully loaded, the ground pressure on the RT9 is only 5.1. Featuring a 10-ft turning radius, the rubber track crawler carrier has an overall length of 20 ft., a width of 8 ft. 5 in., a height of 9 ft. 3 in. and a minimum ground clearance of 20 in. The unit can travel at speeds up to 6 mph.

Because of the flotation from the RT9¹s rubber tracks, contractors can keep working in all types of adverse ground and weather conditions, and can complete projects faster. The rubber tracks also allow for faster climbing on hills and reduced slippage in wet conditions.

"Unlike steel-track crawler carriers, the RT9 rubber-track crawler carrier won't tear up the ground or road surface ­- a significant advantage for preventing costly jobsite ground damage," Crimaldi said.

The RT9 is equipped with a 230-hp (172-kW) Cummins diesel engine. Rollover protective structure (ROPS) and falling object protective structure (FOPS) are standard. Open- and closed-cab options are available.

For more information about Terramac or other products, click here to go to Utility Products' Buyers Guide.