Work light from Larson Electronics
Utility equipment: Larson Electronics releases 180-watt portable LED work area light on aluminum frame.
Aug 15th, 2014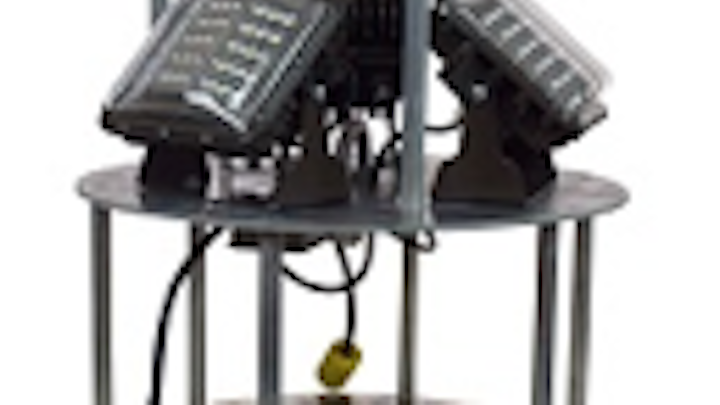 Construction projects: Larson Electronics has announced the release of a 180-watt portable LED work light. This new portable, stackable LED work light provides high light output, 360° coverage, and extreme durability within a portable aluminum frame.
The WAL-STK-3X600E portable work area LED light from Larson Electronics provides a 16,200 lumen floodlight beam covering a complete 360° work area and is a direct replacement for hot and fragile 500 watt halogen work lights. This LED work light is comprised of three LED light heads mounted within an aluminum frame fabricated from lightweight aluminum. Each LED lamp head consists of forty-five LEDs housed within a waterproof aluminum housing that is powder coated for added durability and resistance to corrosion. Each light head can be independently moved in and out, as well as up and down. Included with this light is a 6-in. SOOW cord terminated in an optional NEMA 5-15 straight blade plug, NEMA L5-15 twist lock plug, or NEMA L6-15 twist lock plug. An output outlet allows operators to daisy chain multiple units together via a user provided extension cord between the units that allows only one cord to be running through the work space.
The LED light assembly on this unit is constructed of three angled boards that help provide a wider spread. Instead of the light only shining forward, the center board is concentrated to go straight out while the boards on the side are 45° offset. The LED boards and reflectors are protected by a scratch and shatter resistant polycarbonate lens attached to the aluminum housing, allowing this unit to withstand abuse that traditional halogen work lights cannot. This flood light can be temporarily mounted via the circular pedestal base stand. A topside center hook eyelet allows for suspension hanging and a second eyelet on the bottom side of the unit allows for chandelier type mounting. This portable work light is stackable, which will take up less space for storing and transporting.
"This new LED work light is made up of IP68 rated construction that is designed to withstand extremes of environmental and operating conditions," said Rob Bresnahan with Larsonelectronics.com. "It is waterproof, vapor proof, and built to resist the damaging effects of an outdoor environment and temporary job sites. The daisy chain functionality of this unit lessens the tripping hazards in a work area."
Larson Electronics carries an extensive line of LED light towers, portable power distributions, explosion proof lights for hazardous locations, portable work lights and industrial grade LED area lights.
For more information about Larson Electronics or other products, click here to go to Utility Products' Buyers Guide.