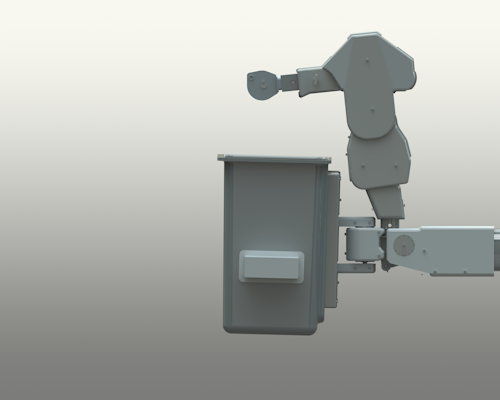 Line maintenance: Terex now offers a new end-mount or top-mount cobra-style jib on its Hi-Ranger™ TL and LTM series aerial devices. Available on all 24-in. x 48-in. platforms, the Terex® cobra-style jib is engineered with hydraulic articulation and extend, enabling operators to achieve a greater range of motion and increased productivity.
The cobra-style jib boasts a low, 16-in profile, as well as a 600-lb platform capacity and 1,000-lb maximum lift capacity, which can be realized with the work line extended farther from the basket shaft than other jibs allow. Operators can easily rotate the cobra-style jib thanks to an additional bearing at the bottom of the jib. This rotation offers linemen more versatility at the pole, enabling them to easily line up with work as needed. It also offers better accessibility between lines. This additional bearing rests on top of the Kingpost socket, which is attached to the jib and is situated on the left of the leveling bracket so that it does not interfere with work. Composite bushings are incorporated into the cobra-style jib's design to help reduce wear on the Kingpost socket.
This new jib also incorporates a poppet valve feature, which helps enhance safe work practices because it prevents the unit from damaging itself during operation. The valve will instantaneously shut off various functions if the rear of the jib makes contact with the fiberglass boom.
The new Terex cobra-style jib quickly retracts and conveniently stows out of the way. With the jib in stowed position, the truck's boom can still utilize its full range of motion, down to -40 degrees.
About Terex
Terex Corp. is a diversified global manufacturer of a broad range of equipment that is focused on delivering reliable, customer-driven solutions for many applications, including the construction, infrastructure, quarrying, mining, shipping, transportation, refining, energy, utility and manufacturing industries. Terex reports in five business segments: Aerial Work Platforms; Construction; Cranes; Material Handling & Port Solutions; and Materials Processing. Terex offers financial products and services to assist in the acquisition of equipment through Terex Financial Services.
For more information about Terex or other products, click here to go to Utility Products' Buyers Guide.