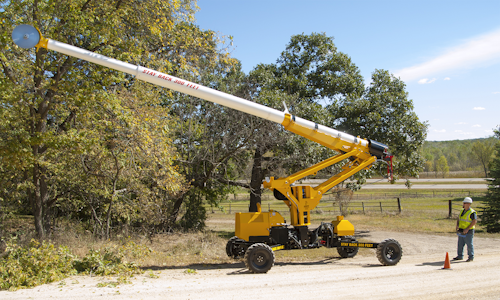 Utility supplies: Jarraff Industries will display the Mini-Jarraff Rear Lot Trimmer at the 2014 ISA International Conference & Trade Show in Milwaukee, Wis., August 2-6. The Mini-Jarraff is specifically designed for residential and municipal tree trimming.
A minimal footprint and compact profile allow the Mini-Jarraff to operate in areas where only climbing crews could go before. The patent pending self-leveling carrier allows it to travel on all types of terrain and eliminates the need for traditional outriggers.
Visitors of the show can see the Mini-Jarraff Rear Lot Trimmer at booth 715.
For over 30 years Jarraff Industries has been providing utility, arbor, and line maintenance contractors high quality, innovative equipment needed to safely and efficiently clear land and maintain utility right-of-ways. Jarraff Industries includes the Jarraff All-Terrain Tree Trimmer, Geo-Boy Brush Cutter Tractor, and Mini-Jarraff Rear Lot Trimmer.
For more information about Jarraff or other products, click here to go to Utility Products' Buyers Guide.