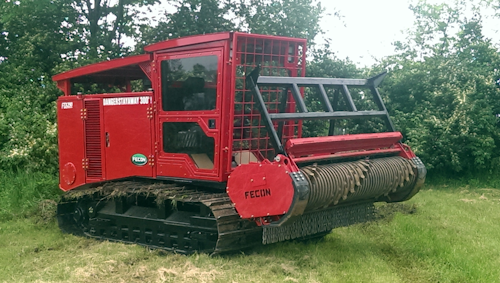 Transmission line maintenance: Fecon advances the forestry mulching industry with the addition of the FTX290 mulching tractor. The FTX290 is a low ground pressure (3.4 psi) tractor with an oscillating steel track undercarriage, providing balanced traction for rough or soft conditions. Like other Fecon tractors, the FTX290 features a spacious cab, operator comfort and ergonomic control layout as well as maintenance friendly service access.
Powered by a Cummins QSC8.3 290 hp diesel, the hydraulic flow to the mulching head peaks at 100 gpm. The FTX290 features the Fecon BH120 Forestry Mulcher with variable speed motors and three optional rotor systems including Fecon's new Depth Controls Rotor (DCR) technology.
Fecon DCR rotors feature the reversible Samurai Knife. The Samurai is incorporated into a depth control design that provides fast cutting in all materials and the most efficient use of horsepower. The cutting, slicing and splitting action of the Samurai Knife as it chips is far more productive than straight edge tools or saw teeth. This productivity is further enhanced by the Fecon DCR, depth control rings providing fast cutting durability unlike other knife based rotors.
The new FTX290 mid-sized crawler with the BH120 DCR forestry mulcher is the right combination of power, durability size and production capability for the larger jobs in R.O.W., urban interface and land improvement or development.
About Fecon:
Fecon, Inc. was established in 1992 near Cincinnati, Ohio. Fecon's Bull Hog is currently the #1 selling forestry mulcher. Fecon also provides track carriers and other equipment for vegetation management, geothermal, seismic, and wood to energy biomass industries.
For more information about Fecon or other products, click here to go to Utility Products' Buyers Guide.