Line maintenance: Electric utility-based field data collection, reporting
Utility tools: New advancements in measurement technology using smartphones and laser rangefinders.
Oct 20th, 2014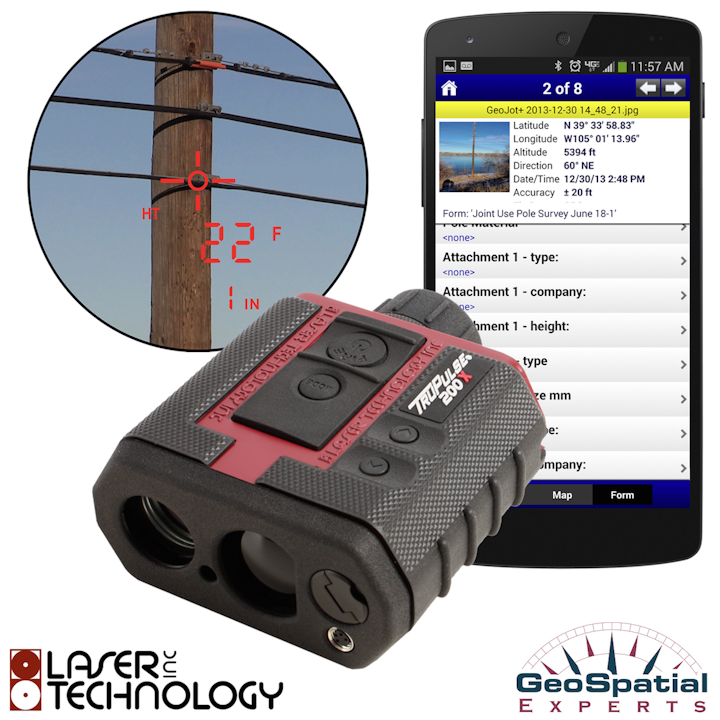 Utility equipment: Laser Technology, Inc., (LTI) and GeoSpatial Experts (GSE), are working together to bring the ultimate solution for electric utility-based field data collection and reporting for pole audits and vegetation management applications.
LTI is the leading manufacturer of professional-grade measurement and mapping laser rangefinders. LTI's TruPulse laser rangefinders are considered the best alternative to the conventional height stick and measuring wheel because they are safer to use, easy to operate and reasonably priced. A TruPulse can acquire measurements directly to an attachment point, conductor or encroaching vegetation which will save time and eliminate the frustrations of collecting measurements near rough terrain, within private property and during inclement weather. The TruPulse 200X model can produce +/- 4 cm in distance accuracy and has a tilt sensor within a tenth of a degree for accurate 2-D slope and height measurements. LTI lasers also have Bluetooth® capabilities that can sync with a smartphone or tablet running an app as well as Windows Mobile handheld data collectors running GIS software.
GSE is the leader in photo mapping software and creator of GeoJot+. GeoJot+ is an annual subscription service that enables organizations to quickly capture field data on mobile devices with geotagged photos, automatically upload the photos and data to the cloud, then process the information back in the office creating reports, maps and database input. The app usage can be easily tracked with the ability to add, revoke and transfer app licenses between devices. Custom forms can also be created uploaded and instantly pushed out to all devices. Using GeoJot+ Core back in the office allows users to review field data and create customizable reports as well as ArcGIS® and Google® photo maps.
"Combining and promoting these two technologies for the electric utility market just makes sense because it has great field to office synergy and makes the data collection and reporting process consistent, easy and affordable," says Paul Adkins, Laser Technology Marketing Manager.
To help educate professionals about this new solution, LTI and GSE will be co-hosting a webinar titled, "Advances in Field Measurement Tools for Electric Utilities." The webinar will air live on October 29, 2014 at 10:00 AM (MST) and will discuss this affordable and highly accurate alternative to traditional measurement methods. It will also demonstrate how professionals performing pole audits and vegetation management can utilize an electronic data collection method that requires minimal training and can consistently produce reliable results.
Additionally, the webinar will cover basic field measurement techniques, how to leverage the laser's on-board calculations and demonstrate complete workflow of integrating with the GeoJot+ software. Professionals can register today for the upcoming webcast to learn more about how easy field measurements and data collection can be or call 1-877-696-2584 to talk to an LTI representative.
For more information about LTI or other products, click here to go to Utility Products' Buyers Guide.