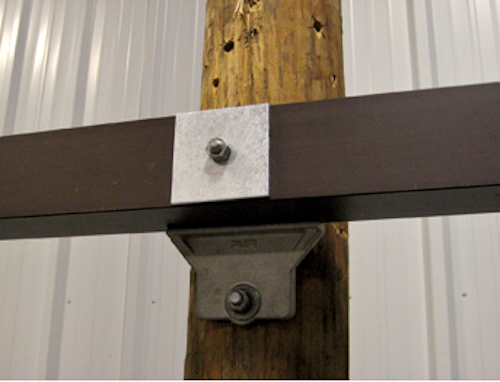 GEOTEK, the producer of PUPI fiberglass utility products, offers the PUPI EZE-Mount-a braceless tangent crossarm assembly that joins GEOTEK's line of PUPI brand electrical distribution and transmission products.
The 8-ft. PUPI EZE-Mount tangent assembly weighs 25 lbs., including all of the hardware required. The system is specifically designed to work with the PUPI 2200 series crossarm in standard 8-ft. and 10-ft. tangent applications. The EZE-Mount is made of tough, corrosion-resistant cast aluminum and designed for use on wood poles. It is cited to be among the most economical crossarm assemblies on the market.
The PUPI EZE-Mount crossarm assembly is easy to handle and simple to install. The crossarm and mounting hardware are assembled at the pole with two bolts. No braces are required, so installation is fast. Once installed, the EZE-Mount's compact design provides maximum clearance for line workers and other pole-top equipment.
Standard RUS TYPE 03, 04 and 05 configurations are available. Custom lengths and drill patterns can be requested.
For more information about GEOTEK or other products, click here to go to Utility Products' Buyers Guide.