Construction equipment: Teleboom crawler crane added to fleet
Boom equipment: Scott Powerline will add the new Tadano Mantis GTC-1200 teleboom crawler crane to its rental fleet.
Jul 7th, 2014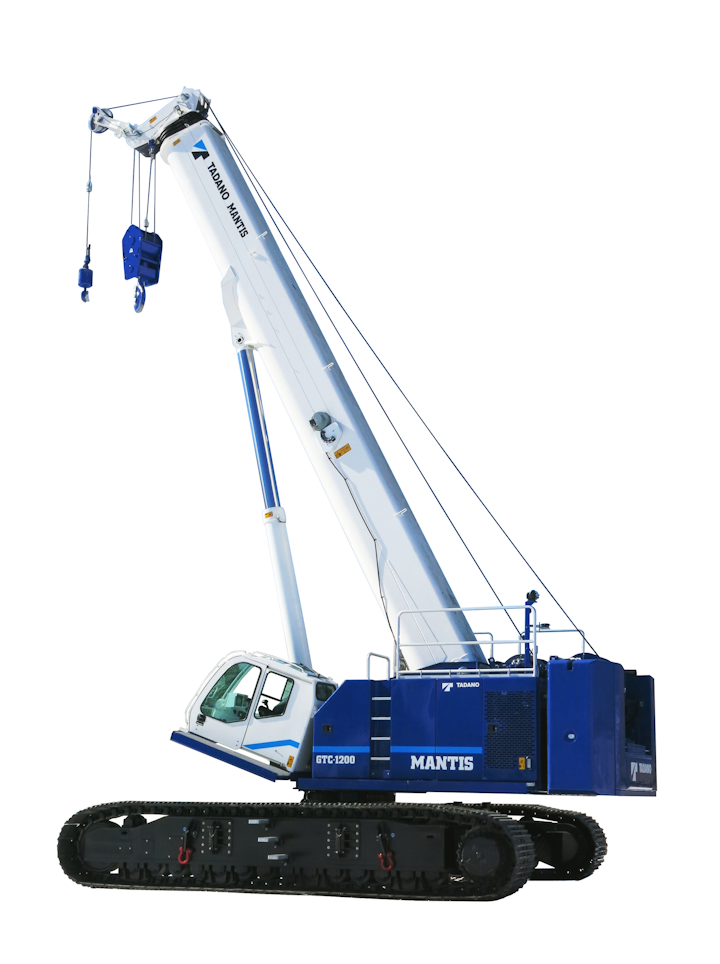 Utility line construction: Scott Powerline will add the new Tadano Mantis GTC-1200 teleboom crawler crane to its rental fleet. The PO has been cut and the order made - Scott Powerline and Utility Equipment, one of the oldest and largest Mantis crane dealers in the world, will add the newly developed GTC-1200 130-ton (US) rated teleboom crawler crane to its already sizeable Mantis rental fleet.
The concept behind the development of the GTC-1200 was to design and build a telescopic boom crawler crane that met the requirements of the growing TADANO MANTIS core markets of power transmission, bridge and civil, and foundation construction while expanding the broader appeal of the crane toward lift crane based markets. The GTC-1200 is the first totally new crane from TADANO MANTIS Corporation since it was acquired by TADANO, LTD in December 2008. The project was managed by the TADANO MANTIS Engineering team but featured collaboration with TADANO LTD and TADANO FAUN Gmbh to utilize the strengths of each group while maintaining TADANO MANTIS's core competencies. The result represents a step forward in design for TADANO MANTIS - full power, round boom with 2 extension modes, HELLO-NET telematics, the TADANO AML-C load moment system, and integration of hydraulic cylinders, winches, and jib systems from the other TADANO Group companies. The GTC-1200 is powered by a Cummins Tier 4f, QSL9 diesel engine rated 350 hp (261 kW) @ 2100 rpm. The load sensing, power controlled hydraulic system optimizes the hydraulic output to the diesel engine power output for highly efficient operation and control; the swing system is controlled by a separate closed loop hydrostatic transmission for superior swing performance. The travel system features 2-speed track drives with maximum speeds of 1.6 mph (2.6 km/h) and a maximum unladen gradability of 52%.
Notes Scott Powerline president and CEO, Tom Scott, Jr., "We've proudly and successfully marketed the Mantis crane line for many years and have assisted in the introduction of several new models during that time. My sales team and I are very excited about the GTC-1200 and are pleased to offer it in our rental fleet." Scott Powerline is the authorized sales and service distributor for Mantis cranes throughout most of the South Central and Southeastern US - in addition, it offers clients throughout the entire US and Canada with one of the largest and newest rental fleets in the world. The new GTC-1200 is expected to join the Scott Powerline fleet in November 2014 and will be available for rental, RPO, or sale.
Monroe, LA-based Scott Powerline and Utility Equipment, LLC rents, sells, and services a wide range of equipment including boom trucks, bucket trucks, cranes, crawlers with winches, digger derricks, multi-purpose amphibious vehicles, pressure drills, sign trucks, track-mounted equipment, vacuum excavators and wire-stringing equipment for electrical line construction and maintenance companies, investor-owned utilities and electric co-ops, as well as companies involved with bridgework, foundation drilling, sign and lighting, and general construction.
For more information about Scott Powerline or other products, click here to go to Utility Products' Buyers Guide.