Construction equipment: Horizontal directional drill
Line construction: Vermeer introduces the second horizontal directional drill (HDD) in its new S3 series. The D20x22 S3 Navigator HDD is designed for what contractors want: more power to handle tougher jobs.
Jul 25th, 2014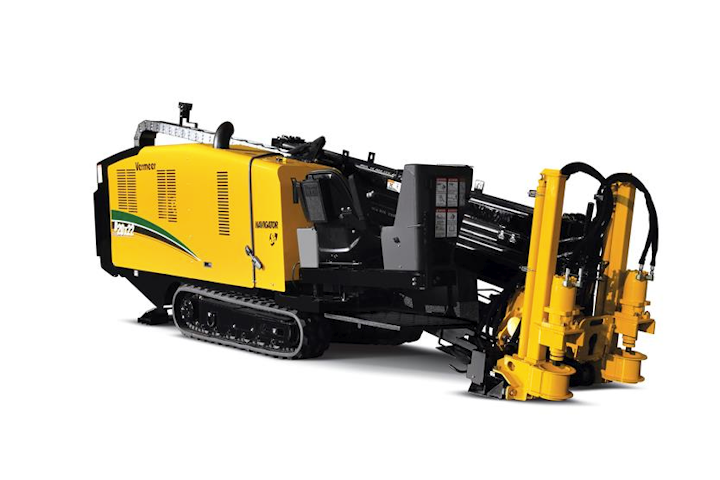 Utility line construction: Vermeer has introduced a new horizontal directional drill with improved power and reliability for the increasingly demanding projects contractors face. The new D20x22 S3 Navigator® HDD was designed from the voice of contractors who desire a small footprint machine yet one that is able to increase productivity when working in urban or tight jobsites.
"Compared to its predecessor, the D16x20 Series II, Vermeer added power and improved precision control for those customers who work mainly in fiber/telecom and gas service installation," said Jon Kuyers, global product manager for underground business at Vermeer. "We listened to our customers and developed a machine to help them be more productive."
The D20x22 S3 features 19,550 pounds (8,875.7 kg) of thrust/pullback with 2,200 ft-lb (2,983.2 Nm) of torque. The 74-horsepower (55 kW) Deutz engine is capable of 12 percent greater power compared to its predecessor, the D16x20 Series II. All new models that feature the S3 label are Tier 4 Final (Stage IV) emission compliant in North America and Europe. Units sold in lesser regulated countries will have Tier 4 Interim engines.
The D20x22 S3 features a new hydraulic system design with enhanced rotation, thrust and tracking performance over its predecessor, the D16x20 Series II Navigator HDD. The hydraulics increases the system efficiency, allowing better use of engine horsepower and helping to increase the drill¹s productivity. Rotational speed and thrust speed surpass comparable drills in the market.
The D20x22 S3 has a faster carriage speed, which can lead to an increase in the amount of product installed per minute. The 167 feet (50.9 m) per minute now exceeds competitive models in the same class. Tracking power and speed has increased as well; improving the drill¹s ability to make sharper turns, climb slopes and track up to 3.5 mph (5.6 km/h) to travel to various jobsites in less time than previous models.
Operator comfort remained an area of focus, most notably through sound reduction. The noise level output from the drill has been reduced, which not only lessens operator fatigue but is also more pleasing to neighborhoods.
The D20x22 S3 has been upgraded to the common control system currently used on larger drills. The system features a digital display and improved onboard diagnostics, which allow operators to customize the available drill information. The system design uses less wiring and fuses for greater reliability. All S3 Navigator drills will have the new common control configuration, benefiting drill operators with the ability to operate a variety of drills and helping to lessen the time needed for training.
The D20x22 S3 joins the current D20x22 Series II Navigator HDD. The drills offer differing horsepower levels, and the Series II model offers flexibility for contractors installing pipe larger than 4 inches (10.2 cm).
The D20x22 S3 marks the next step in the process of introducing drills to satisfy a variety of operators and jobsite demands. This model will allow operators to capitalize on the existing Navigator HDD line with more power and superior productivity.
For more information about Vermeer or other products, click here to go to Utility Products' Buyers Guide.