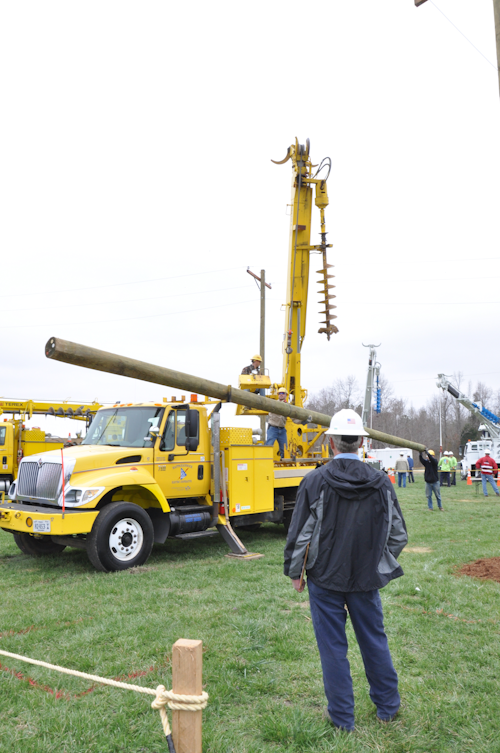 Utility lineman: To coincide with the Electric Utility Lineman Day in Virginia, Terex Utilities sponsored the 12th annual Gaff-n-Go Lineman's Rodeo and the Terex Equipment Operator's Rodeo, April 4-5, at the Caroline County Agricultural Fairgrounds in Ruther Glen, Va. More than 120 electric linemen from seven states participated in the two-day event.
Partnering with Scott Powerline and Rappahannock Electric Cooperative, Terex supplied the utility trucks, including four Terex® Commander C4047 digger derricks, two TC55 material handlers and two LT telescopic aerial devices, for the two days of competition. In addition to the equipment, Terex also provided judges and awards for the equipment operators' rodeo.
"These rodeos give us a chance to celebrate the important work lineman do, as well as to learn more about how our customers are using Terex equipment in the field," says Jim Lohan, Terex Utilities vice president of sales and marketing. "Sponsoring these events is a perfect way for Terex Utilities to demonstrate our ongoing commitment to the electric utilities market."
Open to linemen from all types of electric utilities, the rodeos are designed to give participants the opportunity to show off their skills for friends and family. The first day's competitions showcased operators' abilities maneuvering Terex bucket trucks and digger derricks used to maintain electric distribution systems. The second day's Gaff-n-Go Rodeo competitions, named for the "gaff" or metal spike that linemen attach to their boots to assist in climbing wooden utility poles, featured individual and team events in a variety of timed and scored tasks using Terex utility equipment.
The rodeos were presented by the consumer-owned Electric Cooperatives of Virginia, Maryland & Delaware.
Terex Corporation is a diversified global manufacturer of a broad range of equipment that is focused on delivering reliable, customer-driven solutions for many applications, including the construction, infrastructure, quarrying, mining, shipping, transportation, refining, energy, utility and manufacturing industries. Terex reports in five business segments: Aerial Work Platforms; Construction; Cranes; Material Handling & Port Solutions; and Materials Processing. Terex offers financial products and services to assist in the acquisition of equipment through Terex Financial Services.
For more information about the Gaff-n-Go Lineman's Rodeo, including 2014 scores and pictures from the event, or other products, click here to go to Utility Products' Buyers Guide.