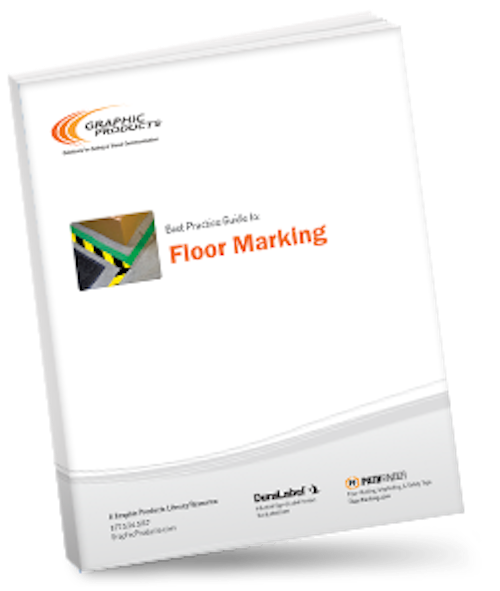 Utility markers: Graphic Products has released a Floor Marking Best Practice Guide, helping safety managers and supervisors put this valuable safety tool to work in their facility.
"Our customers frequently request specifics about preventing hazards in their industry type," said Steve Stephenson, chief marketing officer with Graphic Products. "We put together this guide to help our customers create safer, more efficient environments."
The term floor marking refers to lines and symbols on the floor that draw attention to important boundaries and increase efficiency in the workplace. When used strategically, these boundaries create separation between workers and potentially hazardous objects like forklifts, cranes, machinery, or chemicals. Common uses of floor marking include designating pedestrian walkways and product storage areas. These visual cues are used in warehouses, industrial facilities, and professional and educational environments.

The complimentary Floor Marking Best Practice Guide provides OSHA and ANSI recommendations and tips for creating a floor marking system in various environments. It also includes a sample facility floor plan to offer real-world applications, as well as a guide to floor marking color codes. Of key value is the inspection checklist, which safety managers can use to analyze what would work best for their facility. Graphic Products has also produced a webinar, which is now available online.
"We use floor marking in our warehouses at Graphic Products to ensure our employees can safely navigate their workspace. We have definitely seen fewer accidents, as well as increases in worker productivity," said Stephenson. "We hope others will use this guide as a tool to get the conversation going, and serve as groundwork to set up or improve their floor marking system." Graphic Products has provided solutions for safety and visual communication since 1970. Graphic Products is the manufacturer of DuraLabel workplace label and sign printers, and carries a variety of supplies as well as wayfinding tapes.
For more information about Graphic Products or other products, click here to go to Utility Products' Buyers Guide.