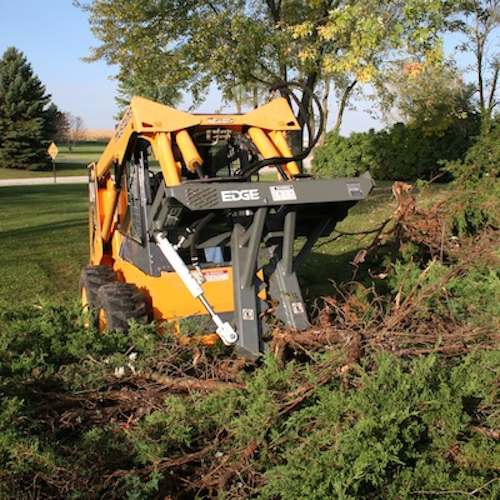 West Bend, Wis.—CEAttachments Inc., a supplier of attachments and accessories for compact equipment, announces the addition of all new EDGE Tree Puller/Grabbing Tool attachment for skid steer loaders.

The new standard-flow EDGE Tree Puller/Grabbing Tool attachment is designed for tough landscaping, construction and agricultural applications.

This new attachment features a single cylinder that opens it's powerful jaws to easily grab and pull fence posts, rebar, invasive trees or shrubs, including roots, out of the ground with ease. The jaws measure 27 inches in length and open to a maximum of 12 inches to grab ahold of trees or shrubs at the base and pull entire plants out of the ground.

The overall length of this handy attachment is 34.5 inches, overall width is 47.5 inches and height of 20 inches.

Other features include three welded brackets to secure the hydraulic hoses away from the jaws, and hoses and flat face couplers are come standard with the attachment. Lift capacities of the new EDGE Tree Puller/Grabbing Tool are based on the lift capacity of the machine, not the attachment. An optional hose saver kit is recommended.
For more information about CEAttachments or other attachments for skid steel loaders, click here to go to Utility Products' Buyers Guide.