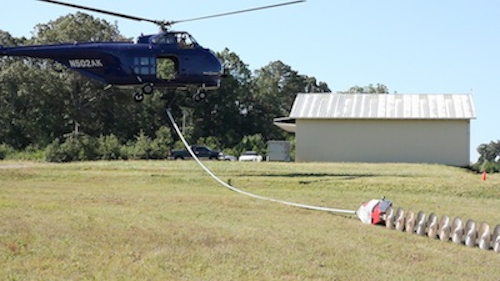 Buford, Ga.—Pirate Airlift, a helicopter lift company based in North Georgia, announced the release of its new custom-built aerial side trimming saw. The Company's helicopter lift capacity has "raised the bar" in side trimming from the standard ten blade saw to the fifteen blade monster, nicknamed "The Dominator."

"The Dominator" was delivered in early June 2012, and Pirate Airlift has conducted extensive support and flight training with the new equipment. "It's one more tool and mission we can provide for our customers", said Pirate Airlift's Director of Operations, Mike Provost, "We have recovered torpedoes for the U.S. Navy, but this new capability even more unique and challenging".

Pirate Airlift was founded in June 2000 and is headquartered in Buford, Georgia. Since then, they have provided external lift and project support throughout the continental U.S. Their aircraft and crew are capable of carrying out complex support operations while deployed in remote, austere environments.

For more information about Pirate Airlift or other trimming saws, click here to go to Utility Products' Buyers Guide.