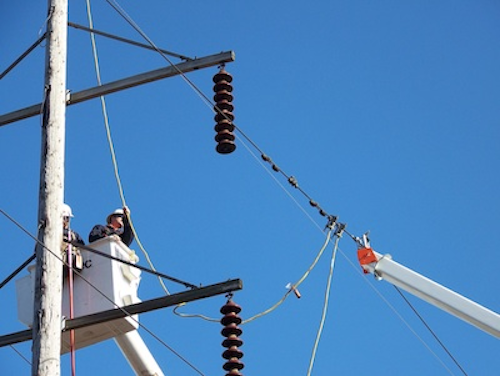 By Vito Martino

Commonwealth Edison Co. (ComEd) has looked to the future for more efficient ways to service its 5,400 circuit miles of overhead transmission lines. Many of these lines are installed on a single pole with dual circuits, and it's not feasible to de-energize both lines. Many pole repairs, therefore, require linemen to create temporary connections while repair work is performed.
In the past, line crews installed temporary poles so customers didn't lose power during repairs—this method of switching and rerouting power, unfortunately, proved to be time consuming. In addition, ComEd anticipates the process of getting lines out of the system will become increasingly difficult. Because of these issues, ComEd looked for alternative methods to de-energize one line and keep the other energized during maintenance.

Doing the Research
ComEd first discussed ways to improve efficiency at the International Construction & Utility Equipment Exposition (ICUEE) show in Louisville, Ky. The situation was explained to Diversified Products, a company that offers specialized equipment solutions for the utility industry. During the discussion, Diversified Products recommended one of its products that could meet the task.
Diversified Products' solution for ComEd was the ELL-161kV energized line lifter. This 10-foot-long insulated jib would let linemen take one line out of service while lifting and keeping another line energized with the jib.
The ELL-161kV has a lift capacity of 2,500 pounds, which allows it to pick up energized lines when poles are spaced far apart. In addition, its angular adjustments accommodate diverse applications, and it easily installs to any crane or derrick so line crews can quickly begin work. The unit has been field-tested and exceeds the applicable requirements for dielectric testing, American National Standards Institute (ANSI) A10.31 and American Society of Mechanical Engineers (ASME) B30.5.
Besides the ELL-161kV, ComEd considered other alternatives. With Diversified Products' solution, however, there were no moving parts, and linemen could use hot sticks to adjust the lines.
After further discussion with Diversified Products about the product's capabilities and benefits, ComEd realized the ELL-161kV was capable of doing the job and was the most cost-effective solution. ComEd then purchased three units so linemen could work on multiple phases at one time.

Field Application
The new products were first put to use when a line crew was sent to replace the cross arms of a wooden pole. Instead of installing a temporary pole or using other methods to reroute the power, the linemen successfully used an ELL-161kV to lift one line and keep it energized, while the other line was taken out of service. As a result, customers never lost power, and ComEd quickly and safely performed the job.
Since the first application, ComEd has determined the ELL-161kV saves each lineman some 10 to 20 hours of labor each time this product is used. That means a five-man crew could save up to 100 hours of labor. Considering a typical work day is 10 hours, a crew can complete a repair job one or two days sooner than if it installs a temporary pole, reroutes and switches power flows, performs work on the existing pole, and then restores everything back to normal after the repair is completed.

Looking to the Future
After using the ELL-161kV to help repair the cross arms, the unit has only been used a few times—but this is because ComEd recently created a new overhead transmission organization, and, in the transition, the company is training 53 overhead transmission linemen to properly and safely use the new jib so it can be used more frequently.
As the linemen are trained and qualified on all of ComEd's equipment, the ELL-161kV will play a bigger role in pole maintenance. Likewise, it will continue to save many hours of labor and increase the company's efficiency and productivity.

About the author:
Vito Martino is transmission director for ComEd, a unit of Chicago-based Exelon Corp.
For more information about ComEd or other line jibs, click here to go to Utility Products' Buyers Guide.