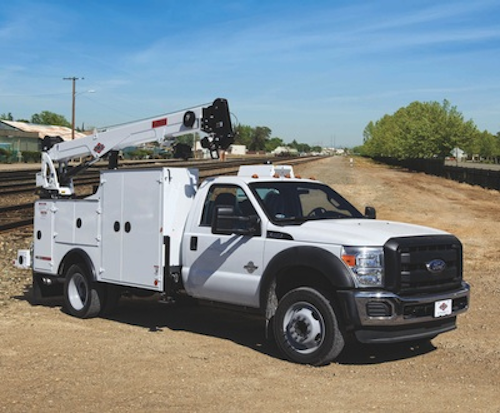 Rated at 39,000 foot-pounds, the new 6000 telescopic crane from Iowa Mold Tooling Co. Inc. (IMT) offers a maximum capacity of 6,000 pounds and 22 feet of reach. Besides being suited for IMT Dominator I and Dominator II mechanics truck bodies, the 6000 Model crane integrates seamlessly with the bodies of other manufacturers.
With the addition of the 6000 Model, the IMT Series III telescopic crane lineup offers maximum capacities ranging from 6,000 to 14,000 pounds.
Standard IMT Series III telescopic crane features include:
• Patent-pending Penta Boom design, delivering high strength and durability;
• Ten degrees of negative boom angle, providing added versatility and allowing the crane to be reached more easily from ground level;
• Fully proportional pistol grip radio remote control, offering traditional fit and operation;
• Light emitting diode (LED) overload indicator lights on the remote control handle that alert the operator when the crane is approaching overload condition or is in overload;
• Flip sheave boom tip for added lift height in tight quarters;
• Planetary winch that allows for faster hoisting, lowering speeds and smoother overall operation; and
• Patent-pending boom hook stow that allows the boom hook to be stowed more easily and quickly.

For more information about IMT or other telescopic cranes, click here to go to Utility Products' Buyers Guide.