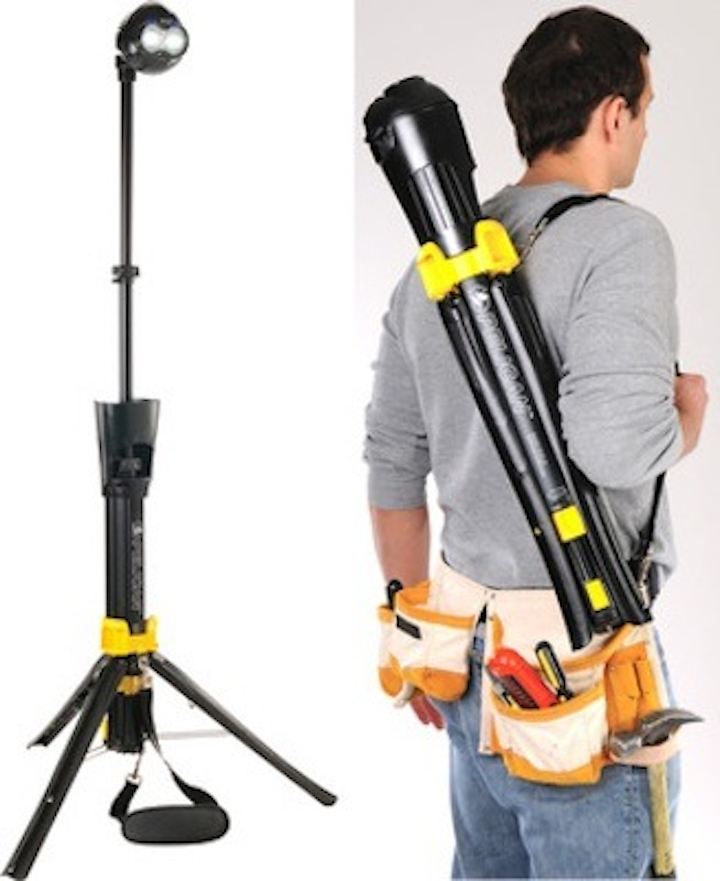 Torrance, Calif.—To offer another LED area lighting solution, Pelican Products Inc. has introduced the Pelican ProGear 9420 Remote Area Lighting System (RALS) / LED Work Light.

Designed as a lightweight, portable and powerful LED area light, the 9420 RALS is the latest offering from Pelican's Remote Area Lighting Group. With raw power to spare, the light's two next generation LEDs shine up to 1,000 lumens in high mode for 2 consecutive hours and 500 lumens in low mode for up to 4 hours. Powered by a "no-maintenance" hot swap, rechargeable lithium ion battery, the 9420 RALS is fully cordless and weighs in at a mere 8.4 pounds. For instant light just about anywhere, its 5-foot mast and integrated tripod legs are fully collapsible and deploy in seconds.

This extremely durable area light features a water-resistant polymer construction for worry-free dependability in some of the harshest conditions around. The Pelican ProGear 9420 RALS / LED Work Light is available in jet black with yellow accents. Also available is the 9420XL kit, which features the area light and a host of accessories including a spare rechargeable battery, charging cradle, nylon shoulder sling, vehicle charging cable and carrying case.

The Pelican ProGear brand includes new, rugged, protective consumer products designed to allow users to transport and protect all that they value, regardless of environmental conditions.

For more information about Pelican Products or other work lights, click here to go to Utility Products' Buyers Guide.